Final Fantasy 7 Rebirth looks to be a bold departure for the series, taking the story of the beloved series in a brave new direction. 
A reimagining of the story of one of the best RPGs of all time, Final Fantasy 7 Rebirth follows on from Final Fantasy 7 Remake. The two titles form part of a wider effort to reinvent the beloved story of the original Final Fantasy 7, told with gorgeous modern graphics and an updated, more action-oriented combat system. 
Though many of the plot beats from the 1997 Final Fantasy 7 remain as they were, Final Fantasy 7 offered some subtle but significant tweaks to the story of Cloud and his allies. Final Fantasy 7 Rebirth looks to continue that trend, dealing with the immediate aftermath of Remake's left-of-field conclusion, as well as taking the core cast of characters out of the city of Midgar. What's more, Final Fantasy 7 Rebirth is set to be so immense that its physical release will require 2 disks – a fact that feels like a callback to the multi-disked original. Here's everything we know about the upcoming game, including trailers, news, and more.
Final Fantasy 7 Rebirth: cut to the chase
What is it? The sequel to Final Fantasy 7 Remake
When can I play it? "Early 2024"
What can I play it on? PS5
Final Fantasy 7 Rebirth release date and platforms
Final Fantasy 7 Remake Part 2, officially called Final Fantasy 7 Rebirth, will release "early 2024" for PS5. This detail was confirmed during a trailer reveal at E3 2023. It was also confirmed in an earlier stream that Final Fantasy 7 Remake is being released as a trilogy of games, with Final Fantasy 7 Rebirth serving as the second distinct game in the series.
Unfortunately for PS4 owners, Final Fantasy 7 Rebirth won't be a cross-gen release like the first part. We expect, however, that, like Final Fantasy 7 Remake, Rebirth will also arrive on PC at a later date once its PlayStation exclusivity deal runs out. Though, this hasn't been confirmed. It's unlikely to come to Xbox Series X or Xbox Series S, given the fact that Final Fantasy Remake still hasn't made the trip to Microsoft's consoles. 
Final Fantasy 7 Rebirth trailer
Latest trailer
The latest trailer for Final Fantasy 7 Rebirth was unveiled at E3 2023's Summer Game Fest. Clocking in at over three minutes, the trailer was a delight, offering a glimpse into the next act of the series' story, as well as tantalizing glimpses of the world beyond midgar. 
The trailer also included combat footage of beloved canine Red XIII who, in contrast to Remake looks to be fully playable in Rebirth. The trailer closes with a cinematic reimagining of a classic scene from Tifa's past, which fans of Final Fantasy 7 Crisis Core will remember well. 
More trailers
Those keen for more Final Fantasy 7 Rebirth content can find the first look trailer on Final Fantasy's official YouTube channel. 
Final Fantasy 7 Rebirth gameplay
Both Final Fantasy 7 Rebirth trailers have shown off the game's combat mechanics. At a glance, we seem to be in for more of what we got with Final Fantasy 7 Remake: a satisfying action RPG with slick swapping between characters and a pause mechanic to help with decision-making. 
That being said, it seems likely that the developers will implement some improvements. For instance, it seems likely that aspects of Final Fantasy 7 Remake Intergrade's Intermission chapter will feature in Final Fantasy 7 Rebirth, according to the game's co-director. Speaking with The Washington Post (via VGC) in July 2021, Naoki Hamaguchi said that some of the combat and gameplay enhancements introduced in Intergrade will likely be in Part 2, more specifically, Yuffie and Sonon's team-up moves from Intermission. 
"I am rather satisfied with this final form, in which the strategic element of the command-based battle from the original co-exists with the real-time, action-oriented battle," he said. "Additionally, with 'Intermission,' there's another element introduced: combo moves where Yuffie and Sonon team up … which makes for a different feel in battle strategy. I would like to leverage these, including other elements we tried out in 'Intermission,' in our next story."
Final Fantasy 7 Rebirth story and setting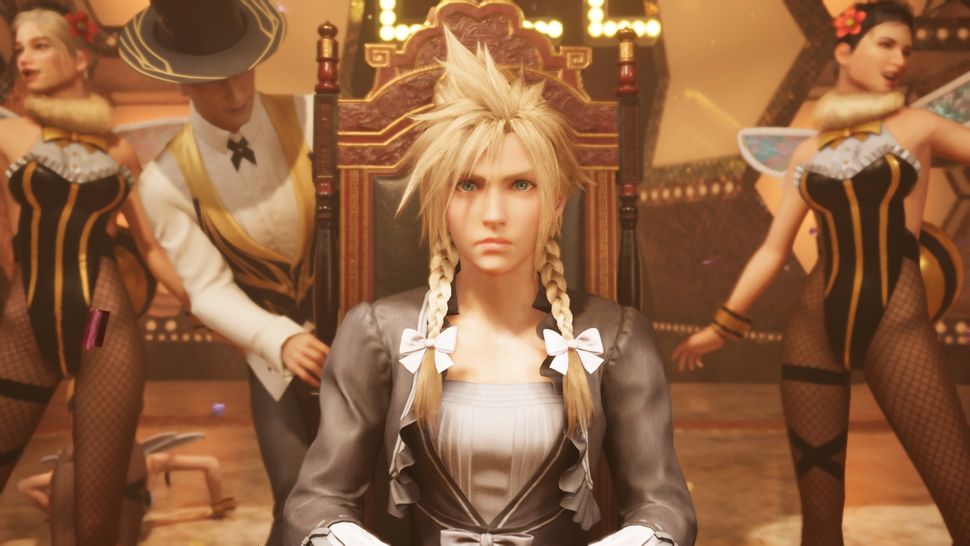 In terms of story, we don't know much about Final Fantasy 7 Rebirth. If it were more of a straight-up remake, then we'd have a far clearer idea about where the narrative is headed. Though Final Fantasy 7 Remake mostly stuck to the script of its original counterpart, there were a few significant differences that could take the plot in a different direction. Either way, Final Fantasy 7 Rebirth will be taking us out of the sprawling dystopian city of Midgar, across lush forests and foreboding badlands.
The Whispers, ghostly antagonists keen on preserving the original Final Fantasy 7 timeline were a key element in Remake. According to a blog post in which co-director Motomu Toriyama spoke about Final Fantasy 7 Rebirth, these ethereal meddlers aren't going to be able to keep the timeline in order this time around.
"As it says at the end of the game 'The Unknown Journey Will Continue', and Cloud and his friends will be on that journey for a while yet," co-director Motomu Toriyama says in the final installment of Square Enix's FF7 Remake blog series (opens in new tab). "From here on in the Whispers cannot act to maintain the destined timeline, so fans can look forward to seeing what kind of future awaits the team."
Since Final Fantasy 7 Remake ended with the defeat of the Whispers, this narrative decision by Toriyama makes a lot of sense.
In an interview with The Gamer in July 2021, Final Fantasy 7 Remake Part 2 co-director Naoki Hamaguchi touched on what players might be able to expect from the game in terms of its world-building and map. "I understand that there are lots of fans out there who want to see a world map," Hamaguchi explained, "and we want to challenge ourselves to leverage the breadth of the world in the next game of the overall project, so you can expect great things to come".
Final Fantasy 7 Rebirth news
Final Fantasy 7 Rebirth now slated for release in "early 2024"
While previously aiming to release sometime around the back end of 2023 or the beginning of 2024, Final Fantasy 7 Rebirth has now been unambiguously scheduled for an "early 2024" release, according to a trailer revealed at Summer Games Fest 2023. While this does mean a slightly longer wait for fans, it is encouraging to see Square Enix narrow down the release window. 
Microsoft states that FF7 Rebirth may not come to Xbox consoles
While we do know that Final Fantasy 7 Rebirth will only launch on PS5, it was hoped that the game could then head to Xbox. According to comments by Microsoft (via Eurogamer), Sony has "entered into arrangements with third-party publishers which require the 'exclusion' of Xbox." The report then goes on to offer examples of what games Microsoft is talking about, which includes FF7 Remake.
For now, there's been no confirmation as to whether these 'exclusion' agreements are real. It's worth noting that Final Fantasy 7 Remake still hasn't come to Xbox platforms, despite having released in April, 2020. 
Work on Part 3 has started
In a Tweet (opens in new tab), Nomura also revealed that development on Rebirth has been "progressing rapidly" since the studio adopted a new development structure, meaning that work on Final Fantasy Remake Part 3 has already begun.
"A title of this scale in which everything is interconnected even before production began is truly rare," Nomura wrote. "In fact, some development has already begun on the third title. I myself have started on the development and am working towards the completion of the series."