The revamped version of File Explorer is now available for Windows 11 testers (known as 'Windows Insiders'), and you can take a look yourself to get an idea of what a future version of Windows 11 could look like. File Explorer is an integral part of the PC user's experience, so seeing it get a refresh is incredibly exciting.
If you're itching to try it out you can head over to Windows Insider Settings on your device and be running the latest Dev Channel release of Windows 11.
The Windows Insider program is a community for Windows enthusiasts that get to preview Windows features and can provide direct feedback and engage directly with engineers.
The updated File Explorer comes with a new "Home" section that looks like a stylistic but simple take on the Windows staple.  There's also a carousel of recommended files which will be displayed when you're signed in, an incredibly helpful feature when you just want to log on and get cracking with whatever you've got to do.
The official blog post with this announcement has several photos and videos demonstrating this and more, and you can see in these photos the refresh is certainly new and bold, but not so much so that File Explorer becomes unfamiliar.
Lighting is key to creating the ultimate vibe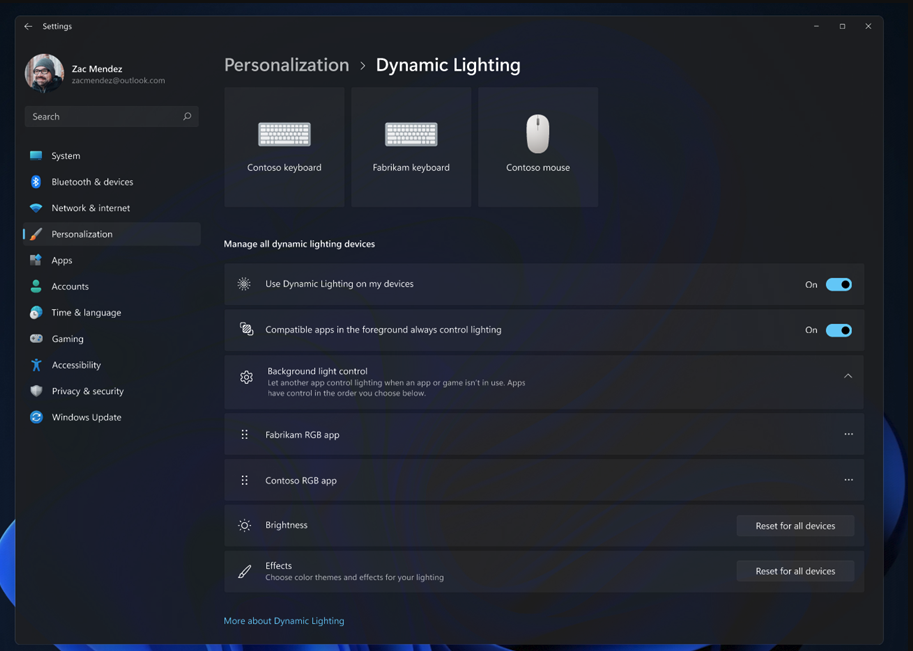 Alongside the File Explorer changes, Microsoft has started testing built-in RGB support.
Known as Dynamic Lighting, the new Windows 11 feature will let you control RGB lights. Microsoft has partnered with Acer, Asus, HP, Hyper X, Razer and Logitech for this new feature so Windows apps can control devices without having to install additional software.
Windows 11 testers can try out an early implementation of Dynamic Lighting, but Microsoft warns there are still several issues with wireless devices, so if you are going to give it a go it's best to stick with wired connections for now.
Other PC gaming brands like Corsair, SteelSeries and MSI are not included on the list, but Microsoft says future products from other manufacturers will eventually gain support.  Hopefully, Microsft's Dynamic Lighting feature will help streamline the process of setting up and maintaining RGB lighting on PC, with users having to keep up with multiple different lighting apps trying to control every device.
If you check out the blog post there is a long list of Razer keyboards and mice that are supported right now, with support for Asus devices coming soon.
Source link