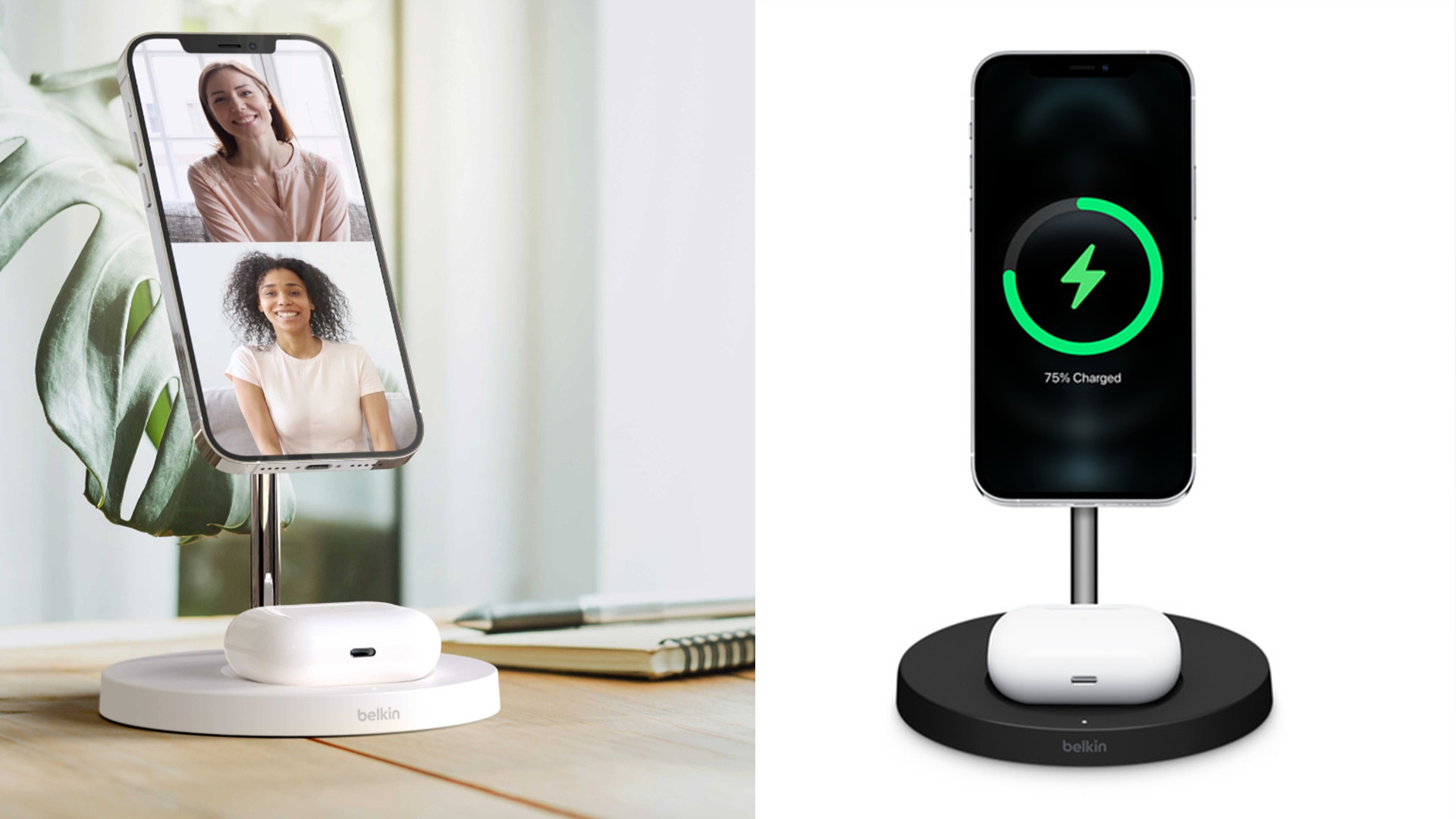 Belkin returns with a new set of Apple-exclusive products, the most important of which is the BoostCharge Pro 2-in-1 Wireless Charger Stand.
The little brother of the BoostCharge Pro 3-in-1 Wireless Charger Stand that launched last year, this new model not only allows you to quickly charge iPhones and AirPod charging cases but also offer support for charging in landscape mode. It's a new feature that takes advantage of the new StandBy Mode coming to iOS 17.
StandBy Mode, as revealed at WWDC 2023, gives iPhones the ability to control smart home devices from smart light bulbs to door locks. Sitting on top of the BoostChargePro 2-in-1 stand, you can turn your smartphone into your very own smart home display. For those uninterested in having a smart home, people can still use the BoostCharge Pro and iPhone pairing as a side table assistant of sorts.
MagSafe and secure
The BoostCharge Pro 2-in-1 shares a lot of the same features as the older model, including "MagSafe technology" for "up to 15W" fast wireless charging. 
The first thing you will notice about this upgrade, however, is it loses the T-shaped arm from the previous installment. That's because Belkin has removed support for Apple Watches. But don't worry as it'll sport the same level of performance as before plus a cheaper price tag and the aforementioned compatibility for landscape mode.
It is secure enough for both portrait and landscape placements so you don't have to worry about your device falling off. On the bottom is a Qi wireless charging base exclusively for AirPods. It is a bit smaller than Belkin's 3-in-1 Wireless Charger, however, as it measures 4.72 x 4.72 x 6.22 inches (120 x 120 x 158 mm).
Available in white and black, you can purchase the BoostCharge Pro 2-in-1 Wireless Charger Stand for $99.99 from Apple's website with the shipping date is set for June 12. Do note that you will need to own an "iPhone 12 or newer" device to use the charger. 
In terms of AirPods, the base is compatible with most models going as far back as the first generation. The one exception is the AirPods Max. Neither of Belkin's products work with the headphones so you'll have to stick with using the Lighting port for charging. A full list of compatible product can be found on the charger's product listing.
Be sure to check out TechRadar's list of the best iPhone chargers for 2023. We cover a wide variety including cables, mats and blocks for your mobile device. 
Source link