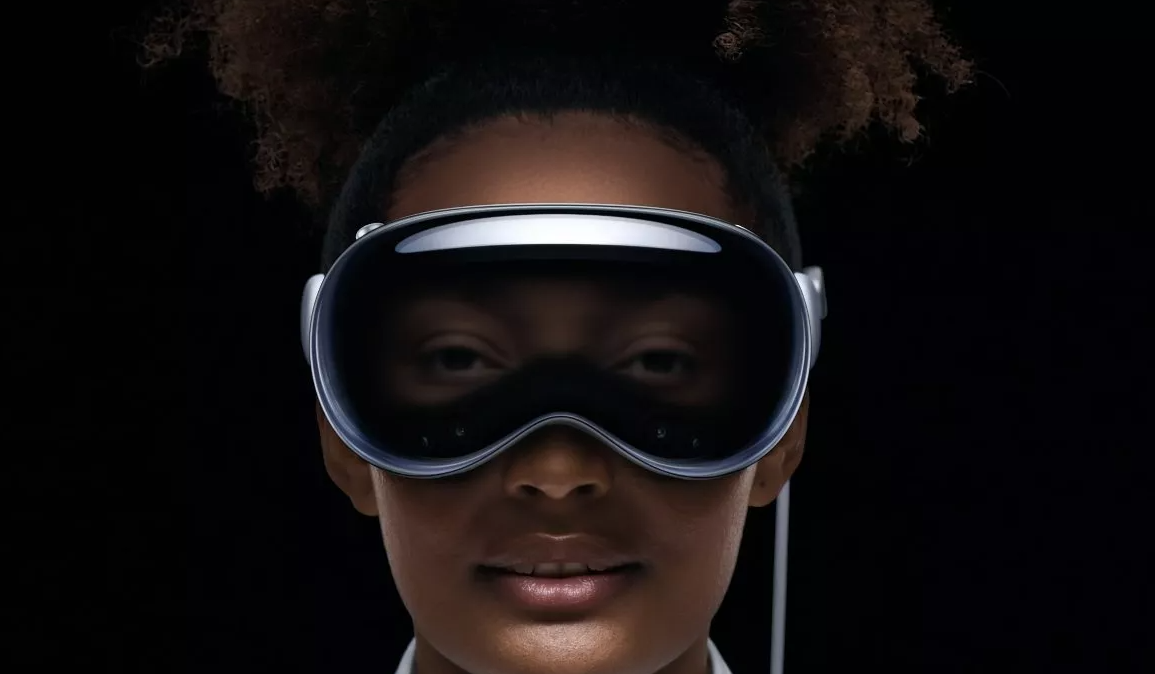 The Vision Pro seems to be the perfect fit for an enterprise audience that has been accustomed to the promises of Microsoft's Hololens platform for almost a decade. Augmented reality, rather than Virtual reality is what Apple is betting on as its new growth platform, its external display as some analysts put it. 
It has dominated the consumer market with its best-in-class products and may be looking to leverage its hardware IP (e.g. the M2) to penetrate the lucrative B2B market, the only one that can afford to purchase these $3,500 headsets en masse (coincidentally, that's what Microsoft is charging for its Hololens 2).
One thing that's important to highlight is the fact that the Vision Pro is designed for individuals, something subtly underlined by the pictures used in the press release showing only solo users. Unlike other projects that Apple apparently worked on (Apple Car, Apple TV), this one feels intensely personal, similar to the Apple iPod or the MacBook Pro, not something that's destined to be shared around, even if it is possible. And given its price, it is not a purchase that you'd do casually to get your friends or family to join you in a game or to browse panoramic photos: these are not $3.99 3D glasses (remember these).
I noted with interest that Apple doesn't call the Vision Pro, an AR, VR or XR product. Apple calls it a Spatial Computer. It uses the word spatial 51 times in the press release. No mention of Virtual, Augmented or indeed reality despite the obvious similarities.
The importance of the ecosystem
There's no denying that the Vision Pro is a masterclass in engineering. Lance Ulanoff from TechRadar had a play with it and summarized his encounter with the beast saying, "30 minutes with Apple's new spatial Reality Platform was all it took to convince me it's the real future of virtual and augmented reality. Even if it will cost an arm and a leg". But hardware is only part of the equation.
As is always the case, the developer ecosystem is where the fate of the Vision Pro lies. Just have a look at Google's now-abandoned xR projects (Google Glass and Google Daydream View) that failed to get significant traction despite being wholly supported by the biggest developer platform in the world, Android. Even the poster child of xR, Microsoft's Hololens has experienced some rough times: it's been four years now since the second iteration (Check out our HoloLens 2 review) was launched and between the first and the second version, Microsoft pivoted the concept entirely to businesses looking to equip their field workers. Yes, it is now running on Windows 11 but rumor has it that there won't be any HoloLens 3.
Other than hindsight (and seeing other fail), Apple, though, benefits from something that neither Google nor Microsoft had: complete control over the hardware/software stack (and therefore experience) but convincing the developers to embrace the platform is something that requires time, which brings us to the launch date.
Why is the Vision Pro headset launching in 2024?
Apple confirmed that the Vision Pro won't launch till next year with other territories likely to get it later that year. Announcing a product and not actually making it available is something Apple rarely does. The new Mac Pro is already available to anyone. Pushing availability to 2024 allows Apple to buy time and encourages the entire ecosystem to get enough apps, use cases and content for businesses and consumers. The Vision Pro also achieves something few have noted: it validates the value of the xR ecosystem and will encourage others to embrace it.
As Rolf Illenberger, the CEO of VRdirect, a niche company that developers VR solutions, suggests "The biggest companies in the world have all spent the last three years trying to ramp up and perfect their VR strategy, using the pandemic as a starting point. Now they have a piece of equipment that matches some of those behind-the-scenes conversations and planning."
I, for one, cannot wait to see how WWDC 2024 pans out.
Source link