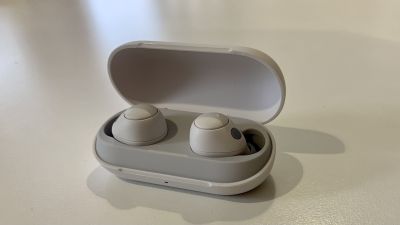 I've gone to great pains to heap praise on the splendid Sony WF-C700N. These inexpensive buds feature in my pick of the top three noise canceling earbuds to pack in hand luggage this year, they gained five sweet stars under intense review and I even told Sony to just "take my money". They're that good. 
If you need further clarification on why I'm bringing them back under your gaze now, see our Sony WF-C700N review, in particular the sub-head: "best earbuds for $119 / £99? You're looking at 'em". 
Why is this important? Because these splendid wallet-friendly earbuds just dropped to $98 / £84.90 on Amazon, that's why! But it's a limited time Amazon deal and as anyone familiar with those knows, it won't last for long. 
Don't live in the US or UK? That's OK! Scroll down for the best deals on the Sony WF-C700N where you are. 
This sweet limited time Amazon deal, which applies to either the black or white colorways, nets you a whopping 18% savings in the US – and a not to be sniffed at 14% price drop if you reside in the UK. 
The thing is, they're new, they're Sony and they're so good. I had to double take when I saw the price drop. For this money, they'd cruise straight to pole position in our best budget wireless earbuds buying guide, where I like to keep the price cap at $99. Only I can't do that; they won't be this price for long. 
Because they're a new model, we've never seen a discount on them until now. Yes, that could be down to the impending arrival of the flagship Sony WF-1000XM5, especially now that a potential spec-sheet has been seen in the wild, but you're going to need to lay down a lot more cash if you want a set of those. Considering the older Sony WF-1000XM4 launched at $279.99 / £250 / AU$449.95, those in the US could buy two pairs of the WF-C700N for $196 and still have $83.99 left of that potential $280 outlay for other nice things right now! 
In brief, the Sony WF-C700N are light, comfortable and their talents go above and beyond their Adaptive ANC and into Sony's 360 Reality Audio, guided by the excellent Sony Headphones Connect app. Sony has taken everything I loved about its more expensive earbuds and squirrelled it into smaller earbuds, at a lower price. You don't get lossless LDAC or the firm's top-tier DSEE upscaling tech, but for this money, the audio quality cannot currently be beaten.
And in a nutshell: this is the best deal you'll see today. My advice? If you were on the fence about buying a set yesterday, I wouldn't wait on them today. 
Source link