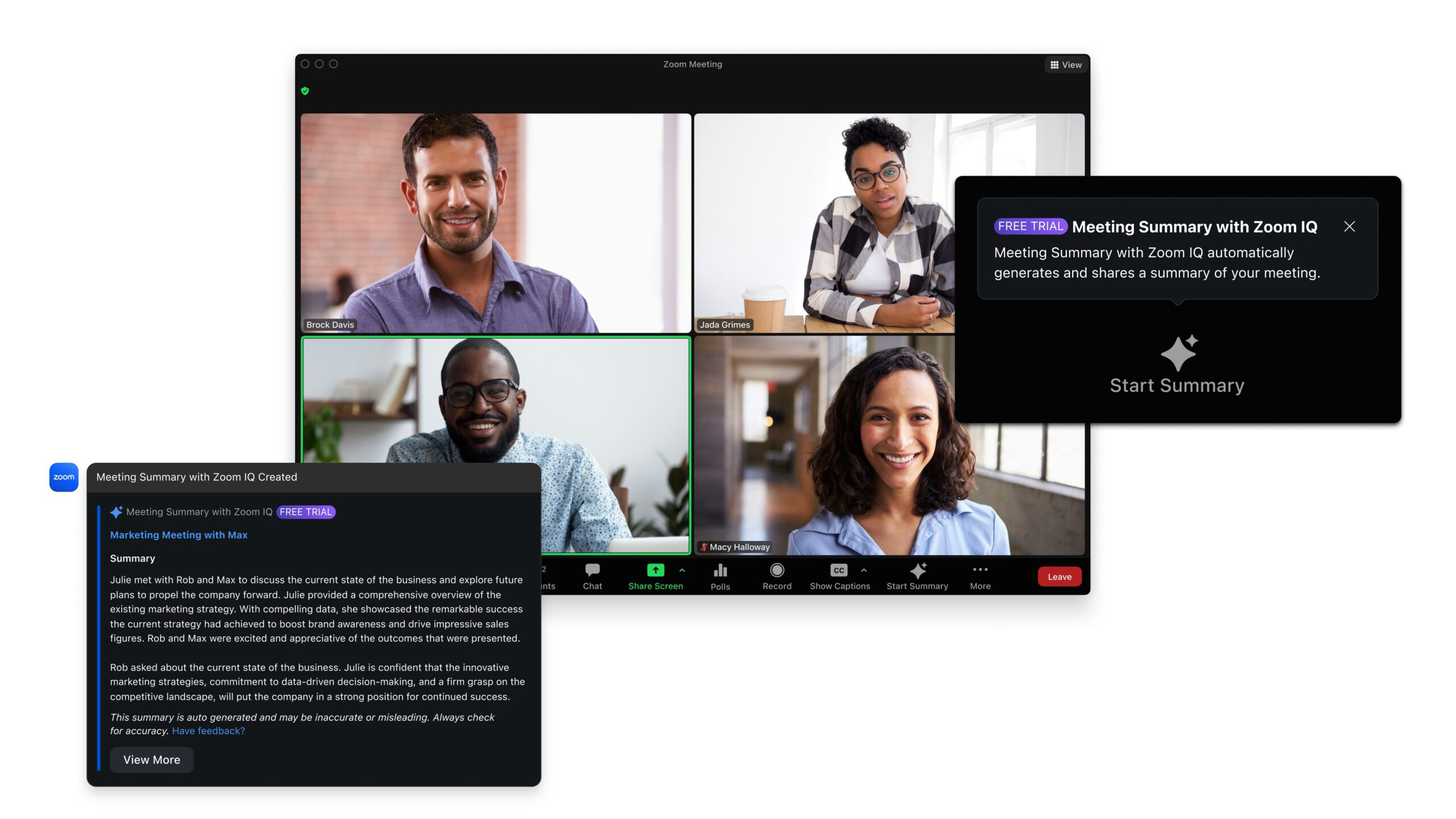 Zoom has started rolling out Zoom IQ with the first features now available for select users to try. The company describes Zoom IQ as a "smart companion" that is powered by generative AI, as the video conferencing software follows in the footsteps of other competitors like Microsoft Teams and Google Meet.
From launch, Zoom IQ will be able to generate meeting summaries and compose chats, with the company promising an additional five features "soon" and likely even more in the coming months and years.
Making the technology possible is a combination of Zoom's own proprietary LLMs, those from other companies like OpenAI, and certain customers' own models.
Zoom IQ is now live
To assist those who were unable to turn up to a meeting, or simply to create minutes or notes for one's own reference, the smart assistant's first generally available feature is able to summarize meetings to be shared via Zoom Team Chat and email, without needing to record the conversation. Hosts are also set to automatically receive summaries for ease of sharing, or to be filed away.
The second feature will be the most familiar, especially to those already using ChatGPT, Bard, and other AI writers. It will help workers generate messages based on thread context, as well as amend workers' own words for better tone, grammar, or to otherwise make them appropriate.
Later down the line, Zoom intends on rolling out a similar composing tool for emails, making use of context from Zoom Meetings, Zoom Phone calls, and other threads; chat thread summaries; whiteboard draft prompts, and whiteboard synthesizing. 
Finally, as part of the initial phases, the company will roll out support for late call joiners to submit a query about what they have missed, with AI-generated responses chipping in to fill the gaps. 
From launch, Zoom IQ will be available to select English language account holders as a free trial, including Zoom One packages (Enterprise Plus, Enterprise, Business Plus, zBusiness, Pro) and some legacy bundles (Enterprise Named Host, Enterprise Active Host, Zoom Meetings Enterprise, Zoom Meetings Business, Zoom Meetings Pro).
The company did not immediately respond to TechRadar Pro's request for more information on pricing and availability.
Source link