One of the big questions Apple fans have before the launch of each new iPhone range concerns what size the screens will be. 
It should be a simple matter – after all, two generations of 'mini' handsets aside, numbered iPhones have come in two sizes since 2020: 6.1 inches for the basic model and the standard Pro, and 6.7 inches for the Plus and Pro Maxes.
Will that change for the iPhone 15 series? We're still a few months away from the likely release of the new handsets in September, and we certainly don't expect any hints at next week's WWDC 2023, but we can make an informed guess based on what the rumor mill is already saying.
So, here's everything we know so far about iPhone 15 screen sizes, plus some details about other screen enhancements to look out for, and possible hints around what might happen with the iPhone 16 series.
iPhone 15 screens: Rumored sizes
When it comes to the iPhone 15 family's screen sizes, it looks like Apple is sticking to the mantra: "if it ain't broke, don't fix it." 
That means we're unlikely to see the first size change since the iPhone 12 launch increased the displays from 5.8 and 6.5 inches respectively, which is something of a shame albeit not exactly unexpected.
Though we don't have anything official yet from Apple on this front – it never reveals anything in advance – we do have an increasing number of rumors that point to the iPhone 15 range's screens staying as they are. 
The first hint in this regard came from leaker ShrimpApplePro back in January, who claimed that the models will all have the same display sizes as the iPhone 14 range.
Indeed, recent iPhone 15 dummy mockups, built from specifications supposedly sent to case makers, show four iPhone 15 models which look identical to the current lineup in terms of size. That is to say, there are two 6.1-inch models (iPhone 15 and iPhone 15 Pro) and two 6.7-inch versions (iPhone 15 Plus and iPhone 15 Pro Max).
Yes, the latter could ultimately be called the iPhone 15 Ultra and the Plus is a bit of a surprise given it's reportedly struggled to sell, but there we are. 
It's also worth noting that the bezels on the Pro models look thinner than ever, so it's possible there will be slightly more screen to enjoy with the same footprint – but we're talking barely perceptible margins here.
iPhone 15 screens: Other improvements
That said, just because the sizes are the same, doesn't mean the specifications are identical. Specifically, there are two possible upgrades to look out for.
The first is for the iPhone 15 and iPhone 15 Plus, which are set to get Dynamic Island – currently an iPhone 14 Pro and iPhone 14 Pro Max exclusive.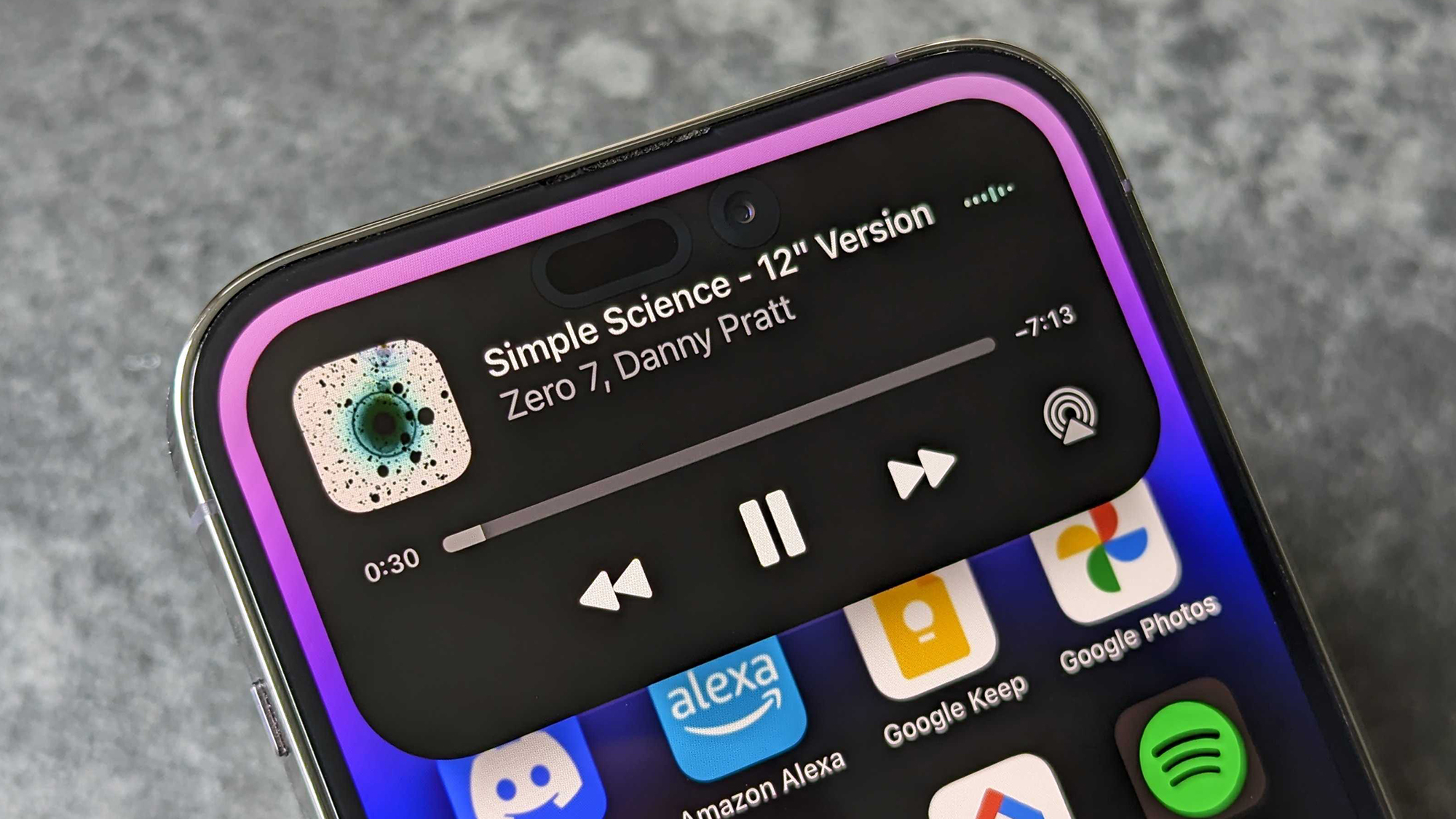 For those unfamiliar with the Dynamic Island, it replaces the notch with a cutout at the top of the screen, which can virtually expand to fill with notifications, in-app information and even the occasional game. It's a neat way of making previously dead space seem useful.
Meanwhile, the iPhone 15 Pro Max/Ultra could get the brightest screen yet seen on an iPhone. That's according to the aforementioned leaker ShrimpApplePro, who claims that Samsung's next-generation panel – which reportedly can hit 2,500 nits of brightness – could be coming to the top-end iPhone this September.
For reference, Apple says that the iPhone 14 Pro is capable of reaching 2,000 nits – so a reasonable upgrade.
Otherwise, we're expecting more of the same, right down to the Pro divide over refresh rates. There's no expectation that the regular iPhone 15 will match the Pro models' ProMotion120Hz refresh rate, and it's likely to stay at 60Hz.
Want bigger? Wait until next year
So if you want something bigger, should you be looking to the best Android phones for inspiration instead? 
Well, maybe – but if you can wait, 2024's iPhone 16 Pro handsets (but not the vanilla versions) could well give you something more substantial in the hand.
A number of the world's most reliable Apple leakers are now coalescing around the idea that next year's Pro handsets will be larger than any iPhones Apple has released to date, even if they don't agree on the exact sizing.
Analyst Ming-Chi Kuo kicked things off by saying the iPhone 16 Pro models will be "slightly larger" than what's currently available. Then, display analyst Ross Young put some numbers on the table, suggesting we can expect the iPhone 16 Pro to be 6.2 inches and the Pro Max to be 6.8 inches.
Unknownz21 went even larger, saying the handsets will be 6.3 and 6.9 inches. Bloomberg's Mark Gurman, meanwhile, seems to agree with this larger estimate, saying that the iPhone 16 Pro models will grow by "a couple tenths of an inch diagonally".
How much of this will actually be felt in the hand, and how much will be absorbed in the space vacated by ever-shrinking bezels remains to be seen. But if you like your screens big and can't think of a life beyond iOS, then it might be worth waiting for September 2024.