Day one at Computex 2023 was certainly filled with amazing new products and wacky releases, but I feel like most of it pales in comparison to what Cooler Master has cooked up in its labs. The brand has been showcasing many of its new products at the event in its headquarters in Taipei, and to say that it's really going for the extraordinary is an understatement.
Not to be biased, but I spent some time exploring the consumer electronics and peripherals area of the conference floor to check out what else is in store, and apart from some funky PC builds (there's a volcano one, a temple, a futuristic building block one), some first-of-their-kind gaming chairs, and some new stuff from Asus, which I will be reporting on later, I haven't really seen a lot to be super excited about.
At least compared to what Cooler Master has been showcasing in its headquarters since May 29. This is all part of Cooler Master's new vision, which it aptly calls "tech lifestyle," the idea being that tech should seamlessly integrate the different aspects of your life together, and equally importantly, it should be fun.
Its showroom floor is packed to the brim with goodies, big and small, from epic battle and racing stations to insane DIY cooling solutions and modular PC cases to fun peripherals that are truly Instagram-worthy. Cooler Master decided that if it was going to do something, it was going to go all out and just go crazy with it. 
Here are nine proofs that it's doing exactly that. And honestly, they make me wonder why there aren't more brands doing the same thing. 
It's a shark, it's a PC
Holy Sharknado, this PC is actually insane. Unfortunately, Cooler Master wasn't able to give me a closer look at it to see how its Shark-shaped chassis opens and how it looks on the inside, but the Shark X is still one of the most impressive and beautifully-designed builds I've seen at Computex. 
The best part is it's not just a concept. This cartilaginous predator-inspired gaming PC is a real thing, even though it hasn't really officially launched yet, and Cooler Master is planning on making it available for purchase sometime this year with the Cooler Master 120 AIO cooler, up to 64GB RAM, and powerful components inside. Not only that but it apparently starts at around $1,400 in the US, which is pretty affordable considering some people would probably pay that much for the chassis alone.
The only thing about this build is that it's gigantic and won't fit under your desk – not that you should because this beauty needs to be put on a pedestal and showcased.
Sneaker and bunny PCs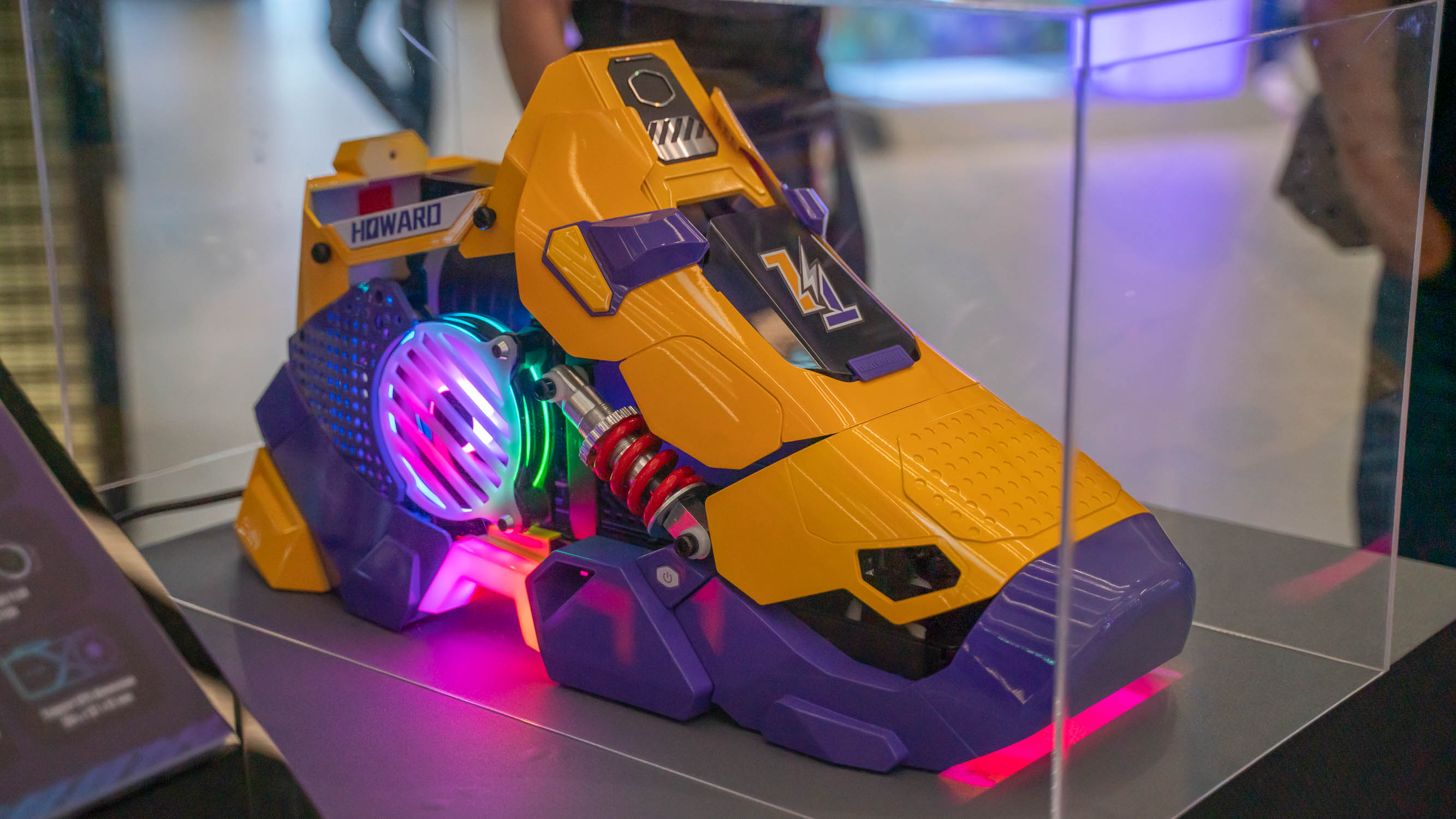 The Shark X isn't the only fun build Cooler Master has in store. My colleague already reported on the JMDF-designed Sneaker X, which launched only a few days before Computex, and I got to see this adorable thing in person. At the showcase, Cooler Master had two on display – the original red colorway and the Lakers' yellow-and-purple Dwight Howard design, which is even prettier.
Cooler Master is also working with another artist who designed an extremely cute Bunny PC build. It's not in production yet, but the company is hard at work to make that build available to consumers.
Not just any gaming chair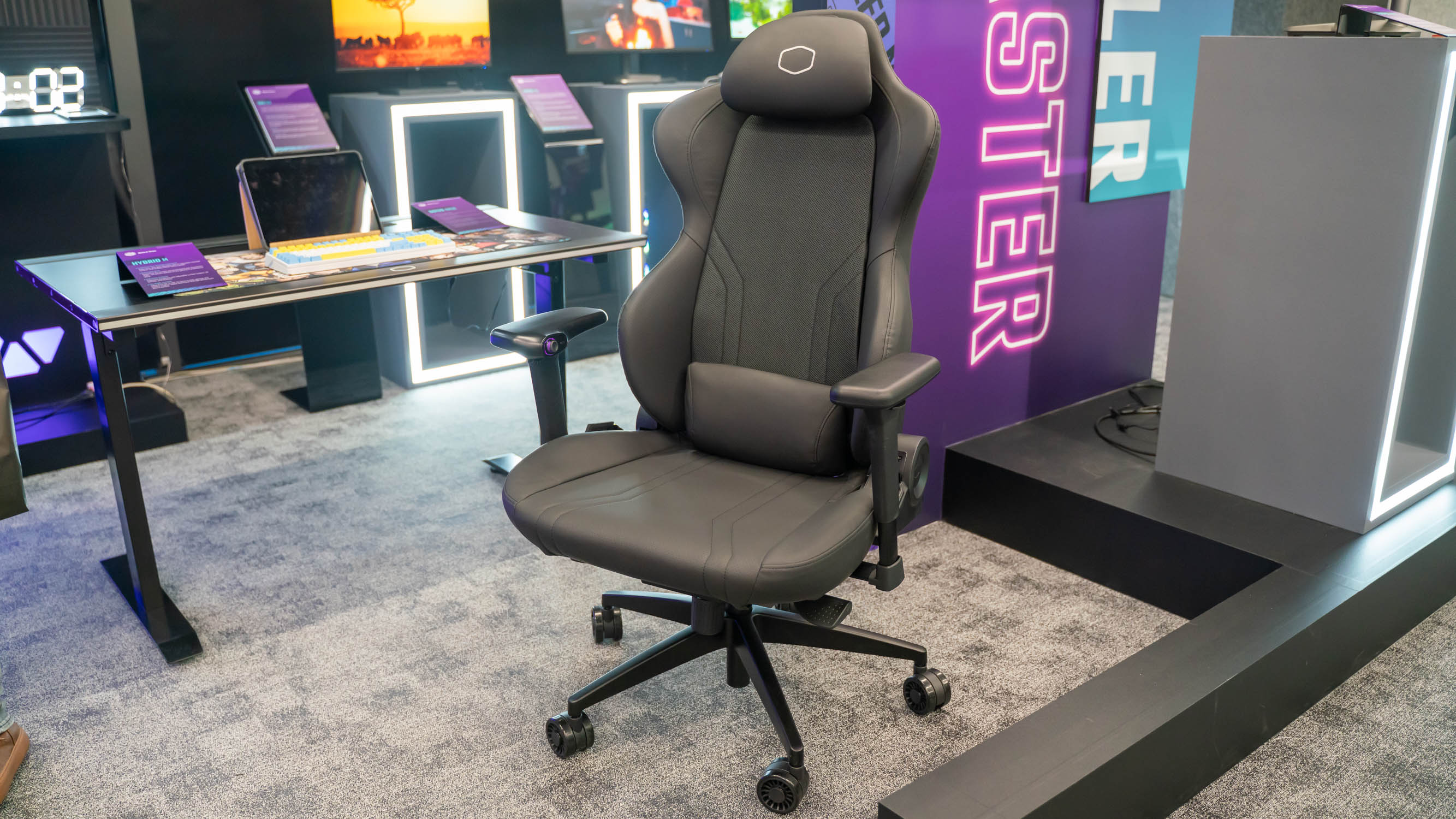 As if Cooler Master was going to stop at its Synk X chair, and call it a day. On the contrary, it's building more not-just-a-chair gaming chairs, starting with the Motion 1, the world's first haptic engine gaming chair that lets you feel every impact in your game by simulating it with vibrations and motions. It's obviously not for everyone, especially since it is pretty expensive, but those who are building their own gaming room might actually appreciate this addition.
My favorite gaming chair at the showcase, however, is the Hybrid M. It hasn't been officially launched, but it's slated for release later in the year. What exactly is it? It's a gaming chair that does what any normal gaming chair does, except it has a massager and heater built-in. Sort of what Mavix is doing but for your entire back. 
The massager runs for about 50 hours on a portable 20,000mAh charger, and can be adjusted in strength, type of massage (there are four!!), and placement for that full body spa treatment.
This is the chair I want for Christmas.
A pair of speakers that turns into a soundbar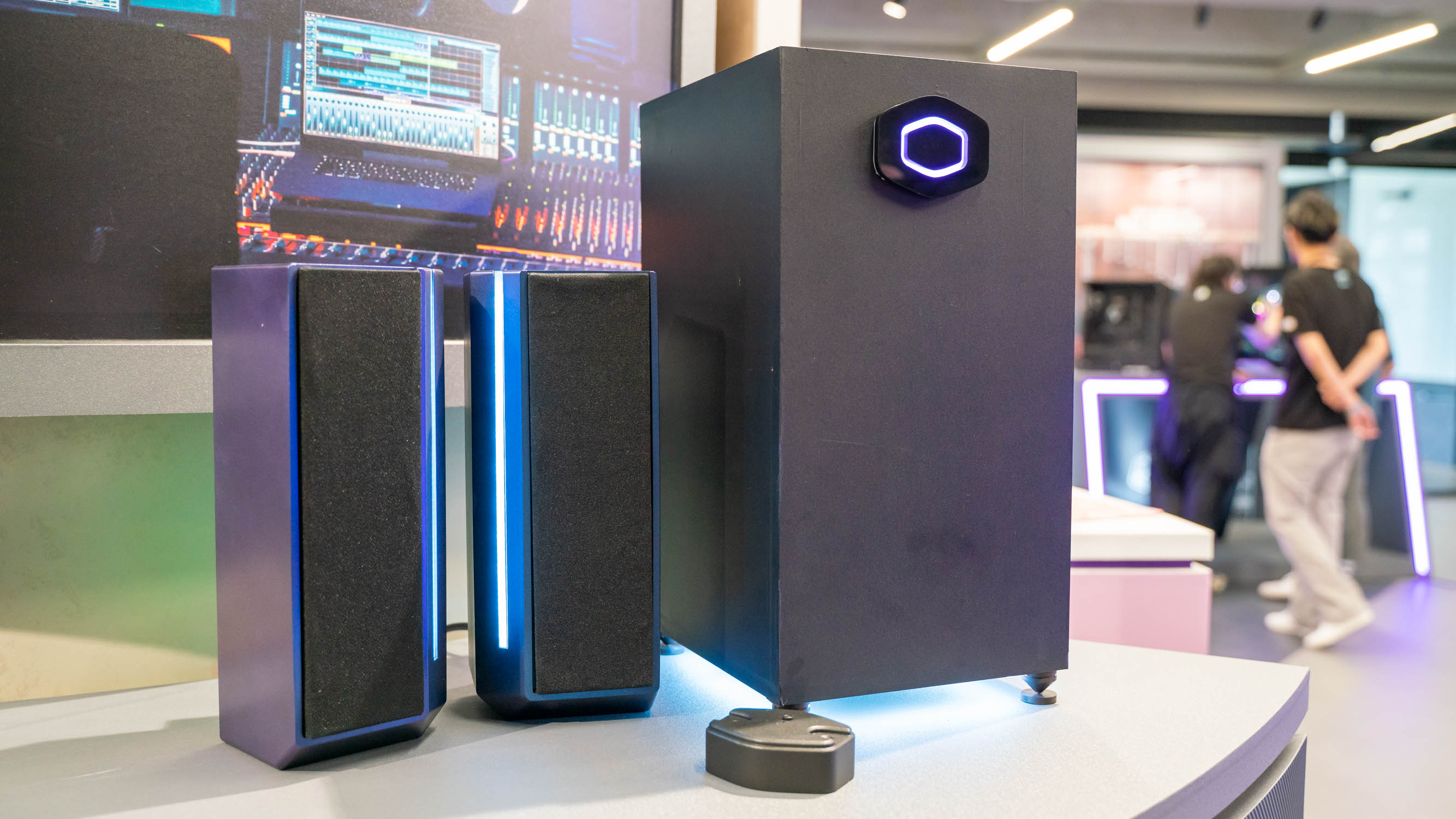 Yes, Cooler Master is finally hitting the PC speakers market. Its first entry is not in the final production stage yet, but I got to experience it at the showcase, and it is a doozy. I got to meet Cooler Master's fun band of audio engineers who are designing this yet-to-be-officially-named 2.1 speaker system, and you can tell they had a lot of fun creating it.
First of all, it has a powerful set of lungs and pipes. Beyond that, the team even created its own surround sound technology, which sounded great during the demo (better than DTS, in fact). And it looks like it's all app-controlled, at least in its current iteration.
The best part though is that the bookshelf speakers… well, put them together, and they automatically turn into a soundbar, giving you center, left, and right audio on top of the sub, which the team claims to be much more powerful than anything Razer has built.
I'm a sucker for a set of speakers, and I cannot wait to test this one out.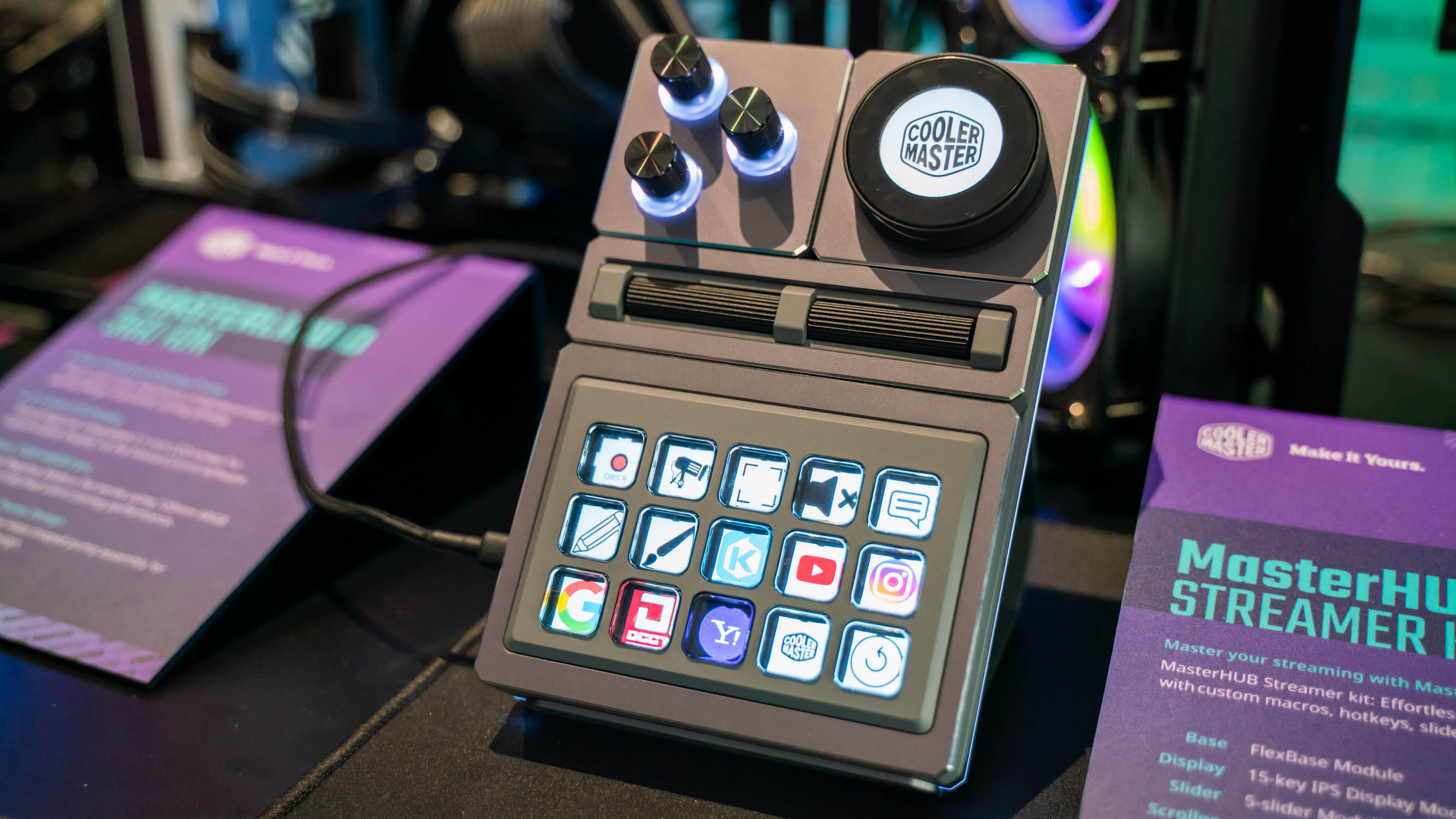 I've talked somewhat extensively about the Cooler Master MasterHUB, which I got to test out at the showcase. What it is, is a rival to the Corsair Stream Deck, enabling users to streamline their workflow and get quick access to their most used apps and commands. It's a pretty nifty product, and a modular one at that, unlike the Stream Deck, which means that you can pick and choose from the nine modules available and set up your own kit.
The only problem here: it's not available yet so I can't completely nerd out. Cooler Master says it'll be available this year, but they can't commit to a date yet. Even the product line itself is still in production. It's basically finished, but they're still putting the final finishes.
A DIY cooling solution
The Masterloop is one of Cooler Master's pride and joy this year, and for good reason. Cooler Master's team essentially designed a DIY cooling solution that includes fittings, a water pump, tubes, and water blocks that allow you to put your personality in your cooling solution. 
Now, I'm not into the whole liquid cooling thing, but if it's something this fun, I might just learn. The series is slated to hit the shelves this year, but not all products will be out at the same time.
Themed peripherals to fill your house with
I know it feels like rolling out the same peripheral models in different looks and themes seems excessive, especially for a company that's striving for sustainability, but there is a market for it especially in the enthusiast community. And while I'm not an enthusiast myself, I collect a lot of keyboards and other peripherals, and I'm here for it.
Cooler Master has rolled the Street Fighter line, for example, in anticipation of the release of Street Fighter 6, complete with a PC case, a gaming keyboard, a mouse, a gaming headset, and even a couple of gaming chairs.
Alongside those, it's also releasing fun colorways for its upcoming products including the CH351 gaming headset, the MM712 Pro gaming mouse, and the MK770 Hybrid keyboard in the Macron colorway, which I'm very sure a lot of collectors will snap right up.
A few more cool things about the MK770 Hybrid keyboard: it's a 98% keyboard with a TKL footprint, and it's completely customizable so you can take it apart and replace it with parts, allowing you to really make it your own.
Source link