iFi is a name that has been making great shakes in the portable "head-fi" arena since 2012: see the UK audio specialist's uniquely styled hip-dac, splendid Zen DAC, Uno, Go Pods and Go Link dongle, for starters. 
And so it is with the new gloriously named iCan Phantom. (Cue Moulin Rouge fans singing "'Cause iCan-Can-Can!" and Phantom of the Opera lovers uttering "Help me make the music of the night". Anyway.) This headphone amp continues in the firm's natural and somewhat-eccentric audiophile vein thanks to its striking design, its considerable power, its unrivalled versatility – it even has energizer tech for electrostatic headphones built in – and the intriguing data cards for setting bias voltage.
In terms of performance, iFi is confident that no other headphone amp handles everything from hyper-sensitive in-ear monitors to the most power-hungry headphones on the planet with such aplomb. 
In fact, the company claims it is the Rolls-Royce of headphone amps and while you're right to be wary of falling for marketing spiel, iFi categorically makes some of the best portable DACs we've ever tested, so it's also wise to stay and listen for a while. 
Opinion: headphone devotees will put iFi's flagship audiophile-grade amp at the top of their wish-list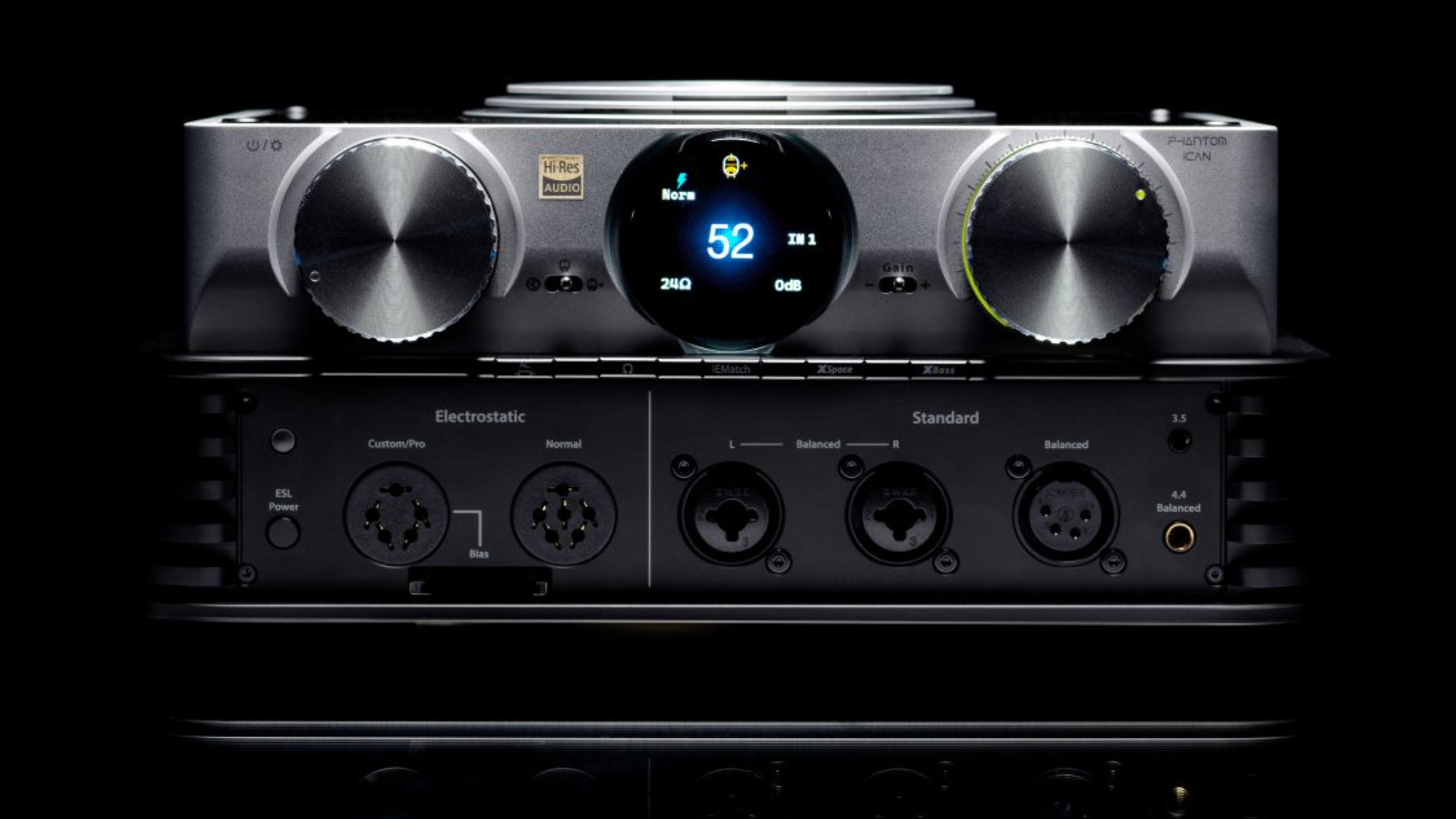 There's a lot to get through in terms of cold hard specs, but what you need to know is that this bijou amp is described by its makers as the "ultimate analog headphone amp" and indeed, iCan is iFi's flagship line. 
And it's not even limited to headphones! The iCan Phantom also performs as a stereo preamplifier to connect to a power amp and some of the best stereo speakers if you're entertaining and want to share that hi-fi sound, perhaps. 
iFi's proprietary PureWavePRO fully differential balanced circuit design promises ultra-low distortion, and the amp features two separate input stages, which allows you to switch between solid-state and GE 5670 vacuum tube amplification in real time.
And the quoted power is quite remarkable at 15,000mW. Essentially, that means it'll drive even the toughest planar magnetic headphone loads with ease, including the excellent $1,300 Audeze Euclid planar magnetic in-ears, the fabulous $1,199 Audeze LCD-X, the best-in-class 'affordable' Audeze LCD-1 and newest Audeze MM-100. 
The iCan Phantom also includes iESL energizer technology for electrostatic headphones, although its maker assures us this also benefits other headphone types. Seen our glowing Meze Audio Liric review and considered buying them? You've probably just found their ideal partner. 
The iFi iCan Phantom's six individual data cards set bias voltage for electrostatic headphones safely and precisely, too, while the capacitive battery power supply eliminates AC and switching noise from the audio signal.
This is the first device to support iFi's new Nexus network-connected control system (for an array of adjustable settings) and just look at that exemplary dual-level build! And yes, that is an OLED color display you see before you – all in a product that measures just over 25cm across. 
Pricing? Of course. Brace yourselves: £3,749, which is around $4,659 or AU$7,115 before any added duties. You can pre-order it immediately, with an actual release expected at the end of June 2023.
Source link