Assassin's Creed Mirage promises to return the series to its roots, by placing an emphasis on classic stealth mechanics as well as dynamic city traversal. 
In development at Ubisoft, Assassin's Creed Mirage is slated to be releasing sometime in 2023. The title will follow the story of Basim, one of the first Hidden Ones and will be available on PS5, PS4, Xbox Series X|S, Xbox One, and PC. 
The Assasins' Creed titles have left an indelible mark on the video game landscape, providing fans with years of stealth-based gameplay and historical intrigue. However, Assassin's Creed Mirage spells a return to the origins of the formula. As much as the open-world RPGs of Assasin's Creed Valhalla and Assassin's Creed Odyssey had to offer, they delivered very different experiences to the original Assassin's Creed, providing a broader, but perhaps more diluted, experience. Assassin's Creed Mirage aims to remedy this, by focusing on core stealth elements, as well as strategy and creative traversal. 
Assassin's Creed Mirage: cut to the chase
What is it? Assassin's Creed game set in Ninth Century Baghdad 
When can I play it? TBC 2023
What can I play it on? PS5, PS4, Xbox Series X|S, Xbox One and PC
Assassin's Creed Mirage: release date and platforms
Assassin's Creed Mirage is launching in 2023, though we don't have a specific release date just yet. Ubisoft only confirmed the game's existence and release window in 2022, following a ton of leaks around the upcoming title.
In terms of platforms, Ubisoft has confirmed that Mirage will be a cross-generation release. As such, expect to see it on PS5, PS4, Xbox Series X, Xbox Series S, Xbox One, PC, and cloud streaming service Amazon Luna. There's, unfortunately, no free upgrade between generations, but it's also cheaper than recent big releases, launching for $49.99 / £39.99 RRP.
Here's everything we know so far about Assassin's Creed Mirage, including the reveal trailer, as well as all of the latest news. As new details come to light, you'll find them here. Hopefully, we'll hear more about a possible release date sooner rather than later.
Assassin's Creed Mirage trailers
Latest trailer
The latest trailer for Assassin's Creed Mirage dropped at the May 2023 PlayStation Showcase and shows off protagonist Basim's infiltration of Ninth Century Baghdad.
In the trailer, we see a return to the series' fundamentals, placing an emphasis on stealth and traversal over combat  – a change of pace that many welcome. Basim sneaks through crowds, climbs rooftops, and deftly assassinates guards in this gorgeous and slick gameplay reveal trailer. 
More trailers
Though only one other trailer for Assassin's Creed Mirage has been revealed so far, both that and future trailers can be found on Ubisoft's official YouTube channel. 
Assassin's Creed Mirage: story and setting
Assassin's Creed Mirage is taking the series back to basics: set in Baghdad 20 years before Assassin's Creed Valhalla, Basim Ibn Ishaq, who was introduced in Valhalla, takes center stage. According to reports, Mirage began as a Valhalla spin-off before escalating into its own fully-fledged entry.
Basim is part of the first Assassin Brotherhood, and Mirage takes us on one of his earlier adventures. Here, he's being taught by Roshan, a Persian assassin portrayed by Shohreh Aghdashloo. Rather than the open-world RPG gameplay of more recent years, Assassin's Creed Mirage focuses on stealth and parkour once again.
As such, expect a smaller experience overall, likely around 15 to 20 hours. When asked about the game's length in an IGN interview, executive producer Marc-Alexis Côté said, "Not everything has to be a 150 hour RPG, right?", confirming:
"It is a smaller Assassin's Creed project. This was conceived [and] built to celebrate the 15th anniversary. So that's why we're using our modern Valhalla engine to build a smaller game that pays tribute to our original game by focusing more on stealth, on close-quarter combat, on parkour, and a denser city that goes back to our roots in the Middle East, with Baghdad as the centerpiece."
Assassin's Creed Mirage gameplay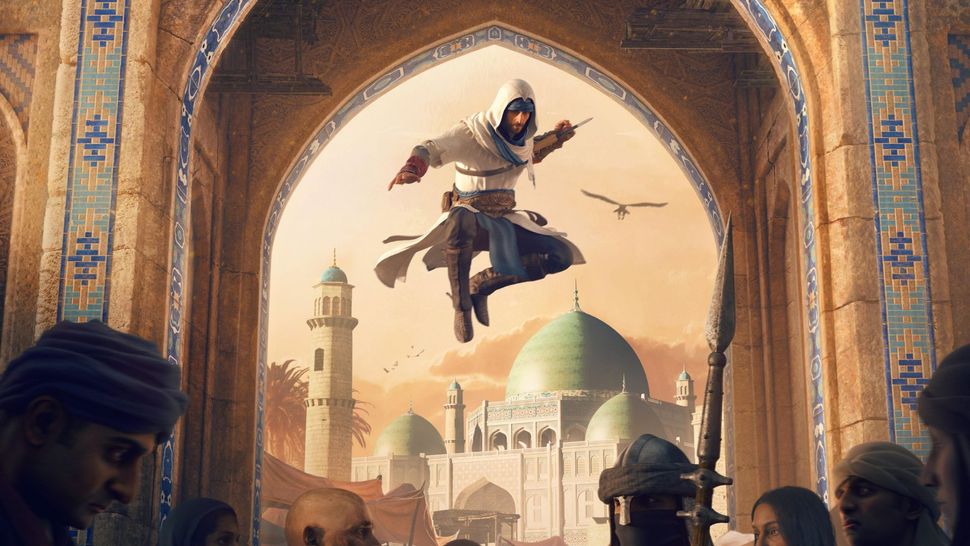 .Ubisoft has confirmed that Baghdad is the only city in the game, split into four zones, though we're also visiting Alamut. Each one contains a boss ready to be thwarted, but it's unclear how that unfolds in-game. What we do know, according to narrative director Sarah Beaulieu, is that this story will include various historical figures.
As for how you'll navigate Baghdad, lead producer on Assassin Creed Mirage Fabian Salomon said in an interview with Arab Hardware (via PCGamesN) that Mirage's parkour will take some inspiration from the mechanics in Assassin's Creed Unity:
 "We are seriously trying to reach this level with Mirage, and since Baghdad is dense as I mentioned, we want the players to enjoy their time in the city through parkour, which was and still is one of the important pillars that we depended on in the style of playing with Assassin's Creed Mirage".
In fact, as part of going back to the series' roots, Salomon said Mirage will take inspiration from other early titles. This includes the return of Assassination Contracts from Assassin's Creed 2 and Brotherhood. He does also, however, mention "new and different opportunities to interact with the environment in Baghdad", including "new mechanics" in hiding and in assassination among crowds. 
Assassin's Creed Mirage news
Fans helped shape Ubisoft's decision to create the "more intimate" Mirage
Speaking to GamesRadar as part of its Big in 2023: Assassin's Creed Mirage story (opens in a new tab), creative director Stéphane Boudon commented on how fan feedback helped build the starting point for Mirage's world design:
"Amongst our fans, we started hearing the desire for a character-driven story, focused on the core pillars of the first ACs in a more intimate scale. It resonates with us as well, as developers, and this was the starting point of the project."
Source link