Spotify Wrapped is always a year-end highlight for music fans, but what if you want a taste of its insights in time for festival season? That's where Spotify festival poster generators like Instafest come in.
Yes, real-life music festivals give you the opportunity to see dozens of bands and artists at once, spend some time in the great outdoors, hang out with friends and family, and get away from the daily grind. But what you don't get to do is choose all the artists.
As one of the best music streaming services, Spotify has tens of million tracks, but it also has a lot of data about your listening habits. And while it can't help you create your own real-life dream festival, there are ways of using your Spotify listening history to create a lineup perfectly tailored for you. It's an interesting look at your music listening habits, and a bit of fun to share with friends and family.
You need a free app called Instafest for this, and you can access it through a web browser on your laptop or on your phone. We'll take you through all the steps you need to create your own dream festival lineup poster.
What is Instafest?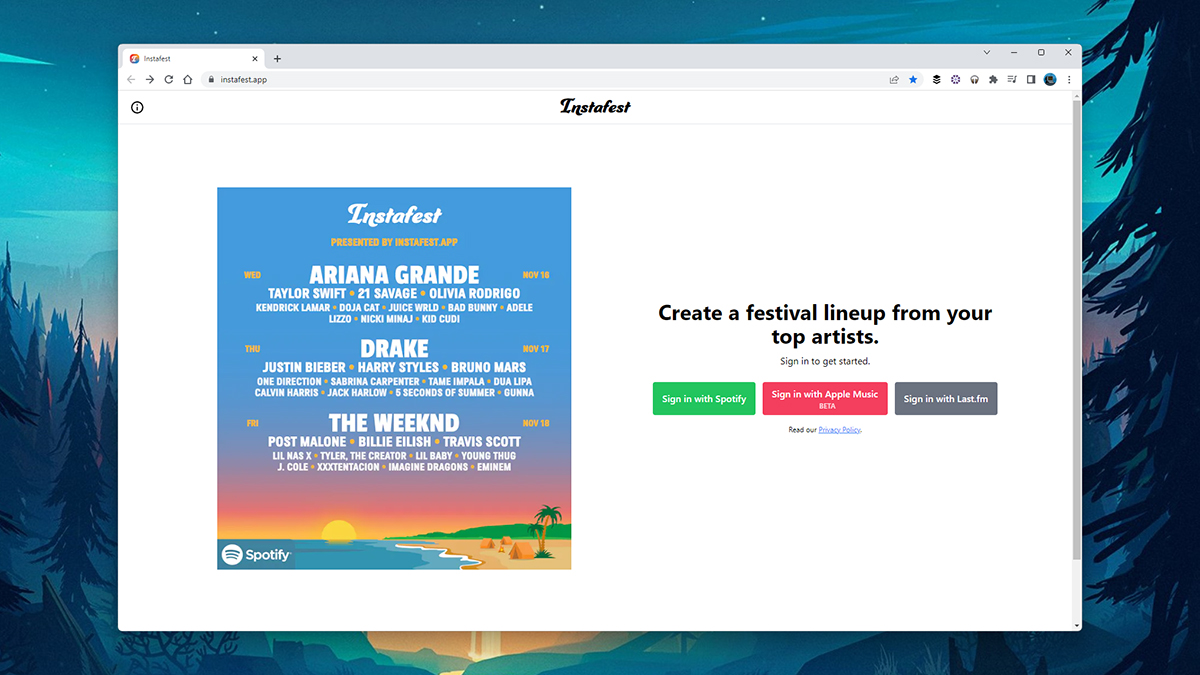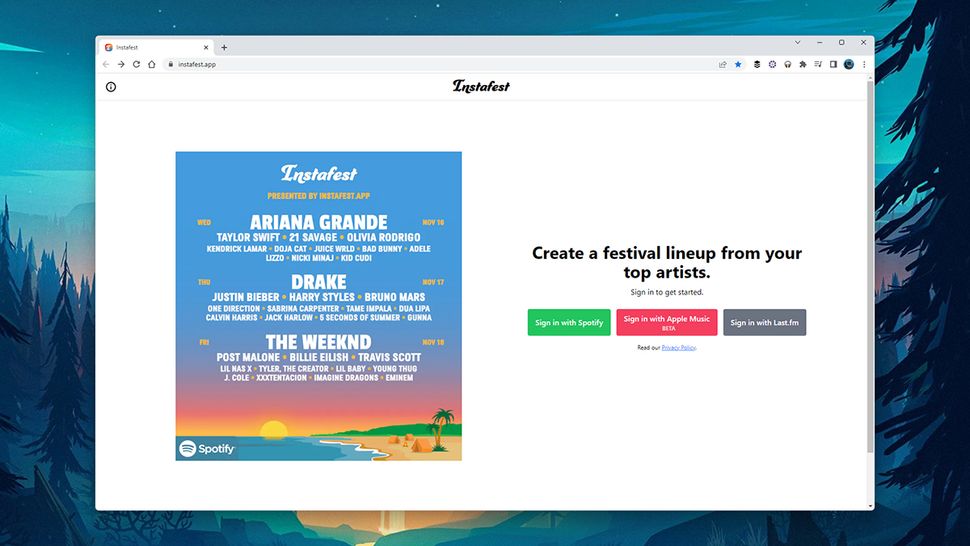 Instafest is a free web app that connects to one of your digital music accounts, analyzes the tracks you've been listening to recently, and then produces a festival-style poster with your dream lineup on it – your dream lineup being the artists that you've been listening to most regularly in recent weeks (or since the beginning of time).
Your festival poster splits up the lineup over several days, with the musical acts that you've been listening to most given the most prominence in terms of font size, and the rest appearing in a smaller typeface – so just like a real festival poster.
You get to give your festival a name, and there are a few different styles to choose from in terms of an accompanying graphic and the colors used. As you would expect, you can either download your poster creation to your computer or phone, or you can share the image through a different app.
It's an impressive app and it's made by developer Anshay Saboo, currently a computer science student at the University of Southern California in Los Angeles. According to Saboo, new features are on the way for Instafest too.
How to make your Spotify festival lineup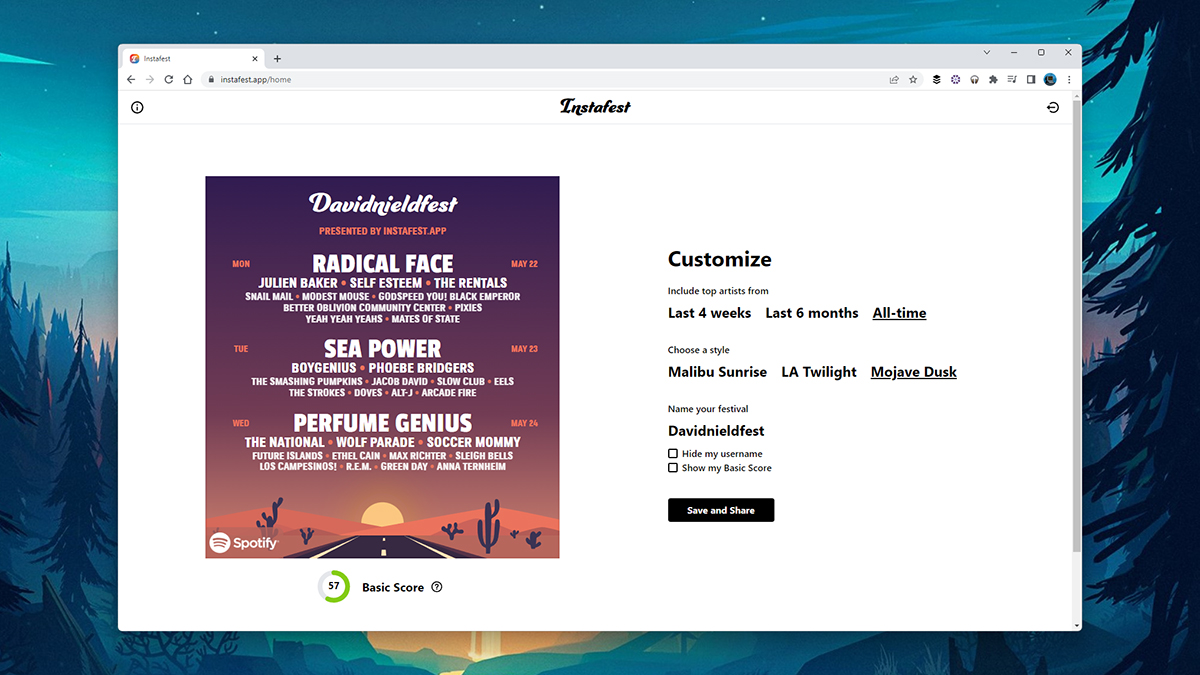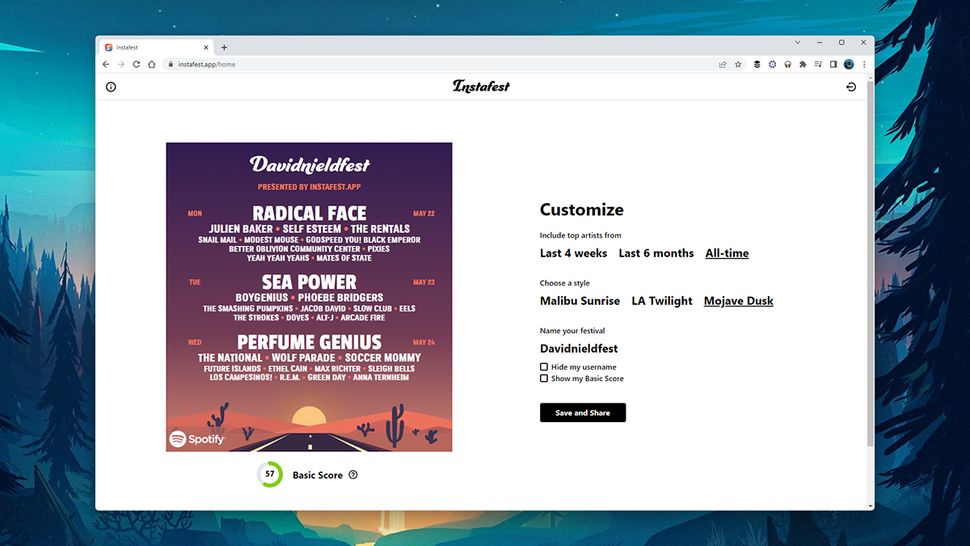 Head over to Instafest from the browser on your computer or mobile device, then click or tap Sign in with Spotify. You then need to enter your login credentials for Spotify, so that Instafest can connect to the account and look at your listening data.
You've then got some customization options to work with: you can have your festival poster reflect the artists you've been listening to for the Last 4 weeks, the Last 6 months, or All-time. The lineup changes accordingly, but you can't change the festival date – it's always three days, starting on the current day.
There are three poster styles to choose from: the beachy Malibu Sunrise, the cityscape of LA Twilight, or the mood desert scene Mojave Dusk. The final customization options let you name your festival and show your basic score on the poster, which is a measure of how niche or otherwise Instafest thinks your music taste is.
Click or tap Save and Share and you get a graphic that you can then save to your device or (on mobile) share to other apps. To log out of the Instafest app, use the button in the top right corner once you've got your poster downloaded or shared.
Does Instafest also work with Apple Music?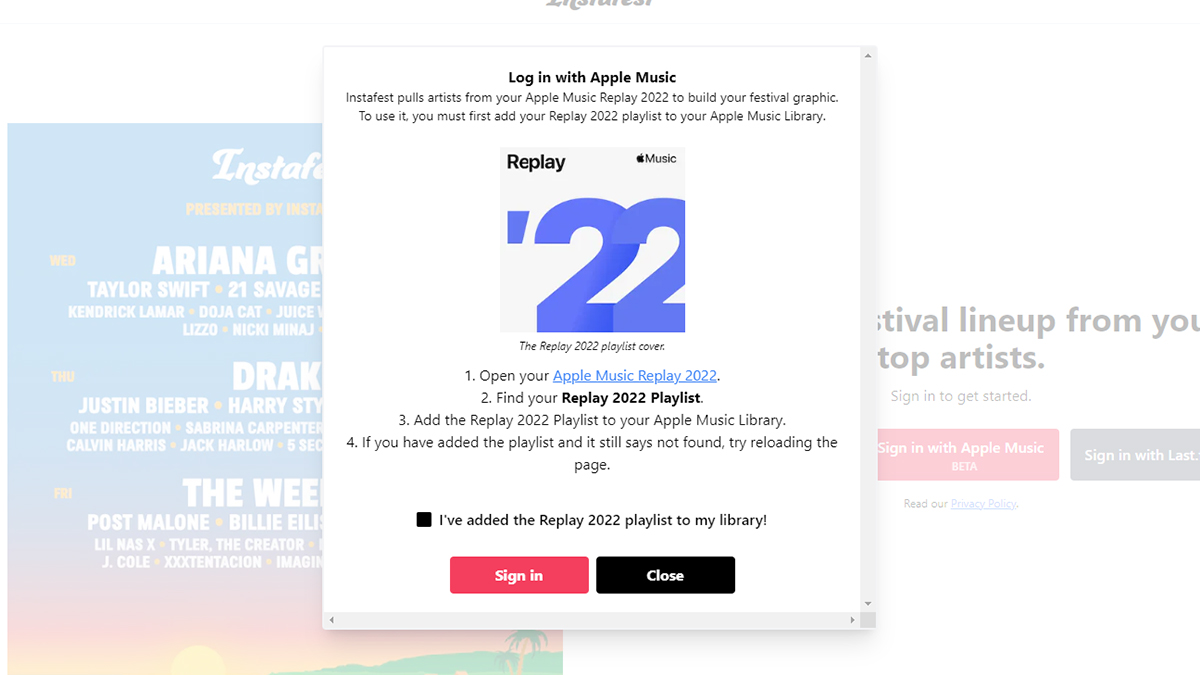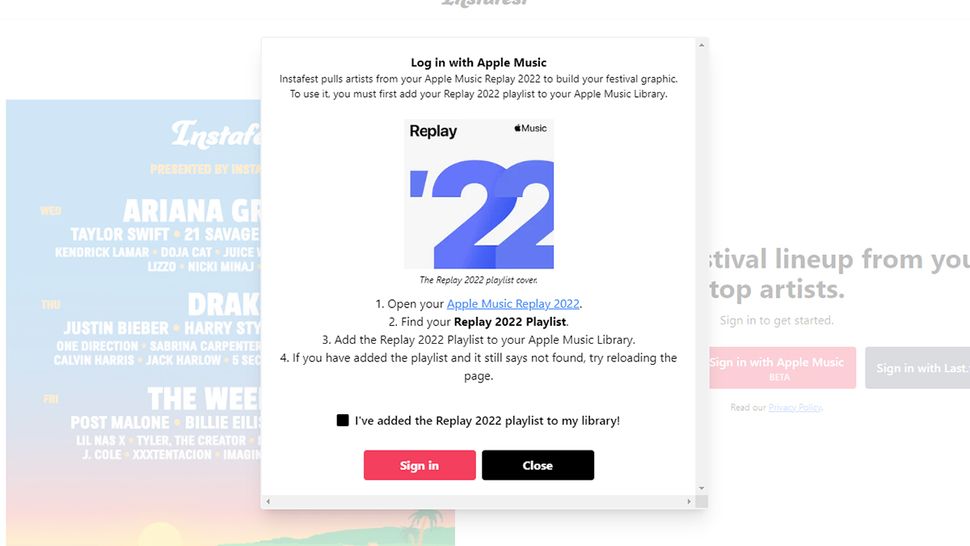 When it first launched, Instafest only worked with Spotify. It has since added support for Apple Music, albeit in a 'beta' form (so you may come across one or two bugs). Just choose Sign in with Apple Music on the opening splash screen to connect your account.
There's an extra step here: You need to have added your Apple Music Replay playlist to your Apple Music library, so Instafest can see it. There are instructions for how to do this on screen, but you can find the playlist here.
Once that's done, you can work through the customization options: as with Spotify, you're able to choose the aesthetic style of the poster and give it a name. However, there are no timescale options – Instafest is just working off a single playlist and doesn't have access to all of your listening history in Apple Music.
There is one other option on the Instafest opening screen: Sign in with Last.fm. Last.fm has been around for decades, and can track your listening habits across multiple music services, including Spotify and Apple Music. If you jump between different apps for your music, this might be the best option of all.