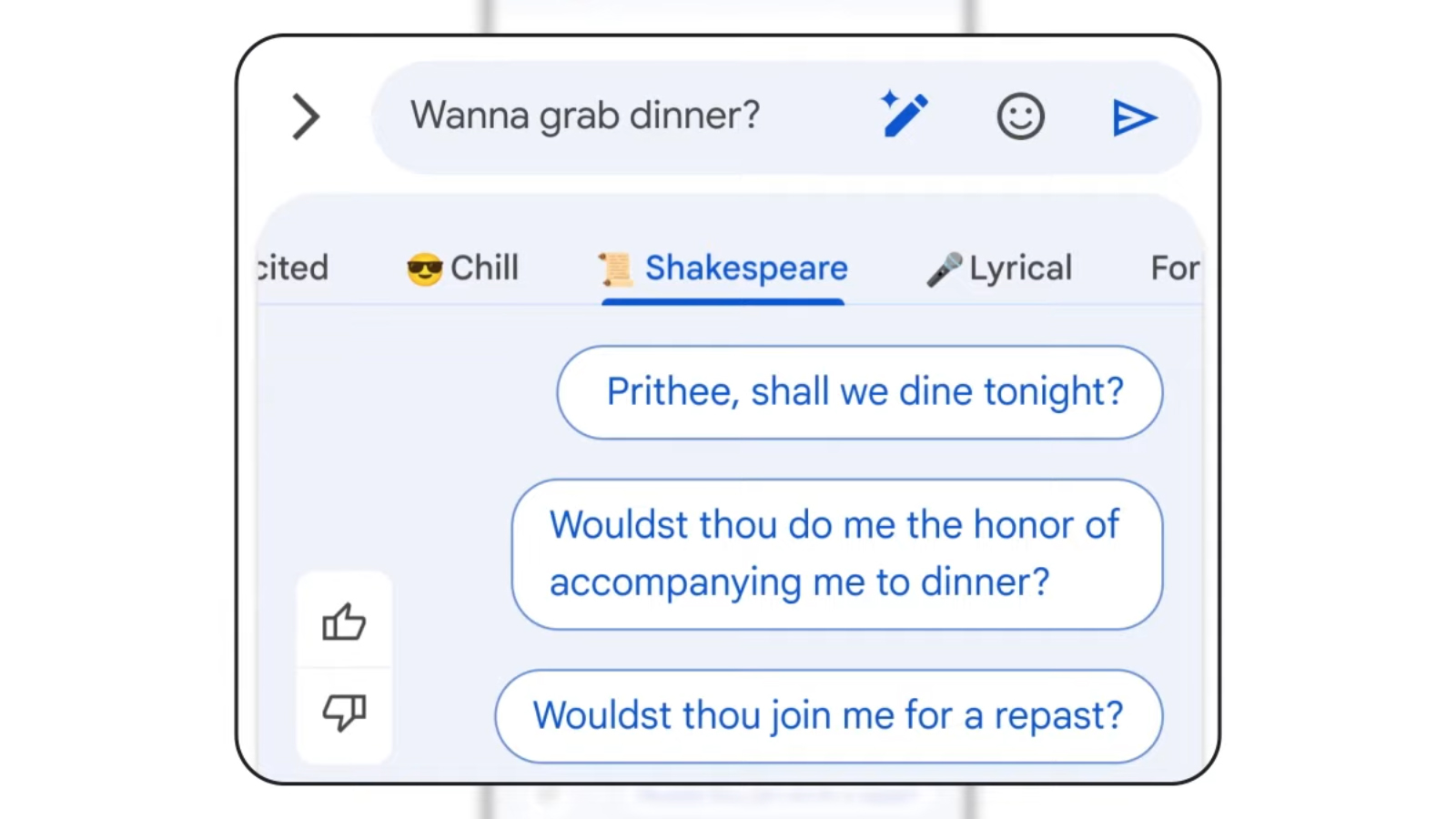 We heard at Google I/O 2023 how Google was about to start stuffing even more artificial intelligence inside of its products, and one of those upgrades has arrived a little earlier than expected: Magic Compose inside Google Messages.
It was slated to arrive in the summer in the US, but it's now available to test in the Messages app for Android (via XDA Developers). For now, you need to switch to the beta version of the app, and be a Google One subscriber, and be using the English language on a phone with a US SIM, to get at Magic Compose.
If you missed the announcement and the earlier rumors, Magic Compose uses AI to write out RCS messages on your behalf, in your choice of style: Remix, Excited, Chill, Shakespeare, Lyrical, Formal, and Short.
Privacy points
As per the support page, Magic Compose sends "up to 20 previous messages" to Google's servers to learn a bit about your writing style and the conversation context, so you need to be okay with that before enabling the feature. Google promises the messages are discarded once some AI responses are generated.
You'll have to take Google on its word that it's using your message history in a responsible way. Right now it's not clear exactly how that affects the end-to-end encryption that protects your RCS messages from being read by anyone else.
Another AI feature announced at Google I/O 2023, the Search Generative Experience or SGE, opened up its waitlist yesterday. It seems as though Google is keen to get as many people trying out these new tools as quickly as possible.
---
Analysis: do you want a bot writing your messages?
Multiple Google products, including Gmail and Google Messages for Android, already offer smart reply options: short, automatically generated messages that (for example) let you agree or disagree with something, or let a contact know that you're en route somewhere.
Those quick responses make sense if you're pushed for time and just need to give a quick yay or nay – but we're less sure that people are going to want to have entire conversations crafted for them. Do you really want your friends and family conversing with an AI bot rather than with you?
We know that tools like ChatGPT are now able to generate reams and reams of text that sounds plausible and realistic. Whether or not this AI text is actually any good is another question, especially when it comes to being creative and personal – with a screenplay for example, or a chat with your friend in Google Messages.
In one sense Magic Compose is just a bit of fun – especially the Lyrical and Shakespeare options. And perhaps if you have a huge number of contacts it can save a bit of time. But it seems an odd fit to put AI text generation in this most human and intimate of scenarios.
Source link