I was once a big proponent of multi monitors; I used to daisy chain a pair of USB monitors from Samsung back in 2006 (the ones with groovy kickstands and big bezels): it wasn't the best of solutions but the ability to have more than one monitor boosted my productivity overnight. These days however, I sport a single 4K 43-inch monitor as they are easier to manage and deliver the virtual real estate equivalent of four 21.5-inch monitors.
You too can do the same with this fabulous exclusive offer from Walmart: here you have the Philips 43PFL5756/F7, a 43-inch 4K TV that doubles as a monitor similar to the one I am using for a mere $169 (that's about £135/€156/AU$254) which is a bargain when the cheapest native PC monitor, with the same size and resolution, costs more than twice the price.
It probably won't make the cut for our best business monitor list but if you're on a budget, there's not much out there that can beat it. Ditto for any ambitions of using this panel as a substitute to any product listed on our best monitor for photo editing.
The 43PFL5756 comes with a pair of 10W speakers and an embedded Roku stick, the ubiquitous media player solution, which allows you to use the display as a smart monitor.
I couldn't find any review of this particular model online, probably because it is an entry level TV set that punches well above its weight thanks to an incredible value for money ratio. Here's why
✅ The remote control This is not only useful for easily turning the screen on and off, it makes tweaking all the other features far easier (or swapping input sources), rather than having to rely only on fumbling tiny buttons found behind the monitor frame.
✅ Screen casting you can connect your mobile devices (smartphones, tablets etc) wirelessly to it and cast content at high resolutions; the wireless connectivity (802.11ac) should be fast enough to sustain high connection speeds.
✅ Voice control This allows users to use Apple's AirPlay, Siri, Alexa or Hey Google to execute a number of tasks without any physical interaction.
✅ Outstanding connectivity  That includes four HDMI ports, a physical Ethernet port, an optical SPDIF connector, a USB 2.0 port and an audio connector. Gone are legacy ports like composite; I would love to have one more USB port but the fact that there's already a Roku Stick built in the Philips TV makes it less of an issue.
✅ Up to 4-year warranty  Philips gives a standard one year warranty on the TV but you should be able to extend that by three years, by purchasing a 4-year plan from Walmart for an extra $30.
What is the best resolution for business monitors?
Screen resolution goes hand in hand with screen size and, for me, the optimal resolution is 4K (which is 3860 x 2160 pixels), on a 43-inch display at about 21 inches away. That's equivalent to stitching together four 21.5-inch monitors with a full HD resolution (1920 x 1080 pixels) each, except that you don't have to worry about monitor arms and big bezels. 
Modern operating systems can deal with 4K seamlessly and the price premium businesses have to pay for a 4K monitor over a full HD one is at its lowest. In fact the only real obstacle to wider 4K adoption seems to be desk size as the smallest mainstream 4K monitor tend to be about 28-inch in diagonal. So if you have the space and the budget, then why not?
4K procures an outstanding visual experience if your eyes are comfortable with it but for any other tasks/requirements/limitations, anything above full HD should suffice.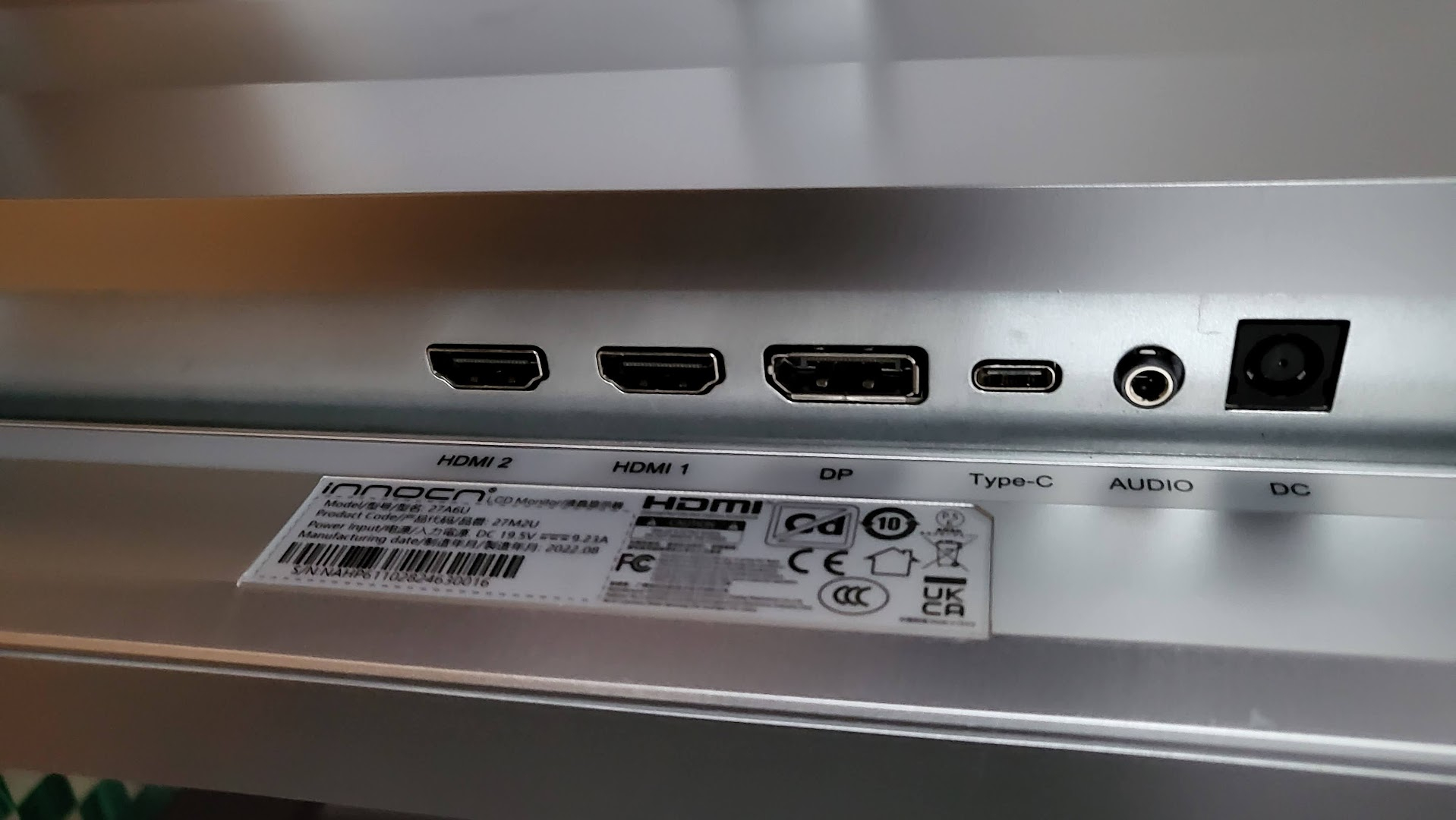 What ports should a business monitor have?
In 2023, there's three video ports that matter on a modern business monitor. Other than the first one, none are essential for everyday business scenarios and their inclusion should be weighed against their overall value-for-money performance.
✅ HDMI port Present on almost all recent monitors, it can carry audio as well – but not power – and offers resolutions of up to 8K. The current gold standard is HDMI 2.1 which offers higher refresh rates (up to 120Hz on 4K). It won't matter so much for business applications though.
✅ DisplayPort Some monitors have DisplayPort connectors that are compatible with Thunderbolt 3 or 4 as well as USB Type-C (and USB 4). Should your computer support Multi-Stream Transport mode (MST), you should be able to daisy chain two monitors or more.
✅ Type-C It is probably the most complicated as it is associated both with data and with video (although technically the latter is a subset of the former). A Type-C connector can either support USB or Thunderbolt protocols (look for the lightning symbol) and can deliver.
Beyond those three are other ports; audio ports that allow you to output to a headphone or USB ports (flat or square) that can either power other devices (a feature called power delivery) or use the monitor as a hub.
Source link