Ask a die-hard home theater enthusiast to recommend a Blu-ray test disc for adjusting a TV's picture and there's just one response you're likely to get: the Spears & Munsil UHD HDR Benchmark. 
I've used the Benchmark for testing the best 4K TVs and 4K projectors since it was first released in 2019, and it remains an indispensable tool for evaluating picture quality and fine-tuning displays for optimal performance. And while the best streaming services have far surpassed 4K Blu-ray players in popularity as a source for viewing movies at home, Blu-ray has remained a resilient enough format that Stacey Spears and Don Munsil, the engineering duo behind the original disc, have released an updated version: the Spears & Munsil Ultra HD Benchmark.
Whereas the first Benchmark was a single-disc package, the new version is a three-disc set with an expanded array of video test patterns. Another change is that the test patterns are provided in the HDR10, Dolby Vision, and HDR10+ formats, and they are accompanied by helpful pop-up descriptions – a feature that was lacking in the first Benchmark release. 
Another new Benchmark addition is Dolby Atmos and DTS:X audio test tones, which can be used to calibrate immersive audio systems ranging from 5.1.2 channels to 9.1.6 channels. As with the previous version, tones are included to test and adjust A/V sync. 
The tests are designed to be used by hobbyists and professional calibrators alike, and they feature a new peak luminance pattern that, according to Spears and Munsil, allows for more accurate maximum brightness measurements than the patterns on the previous disc. There's also a pixel ageing pattern designed specifically for OLED TVs, which will let them break in properly and help to prevent OLED screen burn-in issues.
A fantastic feature of the original 4K test Blu-ray was a visual montage section that provided clips mastered at various peak brightness levels to evaluate HDR tone mapping. The new version features an expanded range of clips shot in 8K resolution, and they have been mastered with an eye toward giving TVs and projectors an HDR workout. In the words of the disc's creators:
"HDR represents a new way of thinking about video, with a completely different approach to transfer functions, or what we used to call 'gamma,' and that meant that a bunch of old patterns just plain didn't work anymore. Video is now encoded for very-high-brightness devices, and then has to be remapped by the display to fit that display's actual capabilities. Needless to say, every display does it a little differently—now, with the Ultra HD Benchmark, enthusiasts and professionals will be able to get insight into exactly what the display does when it makes those important remapping decisions."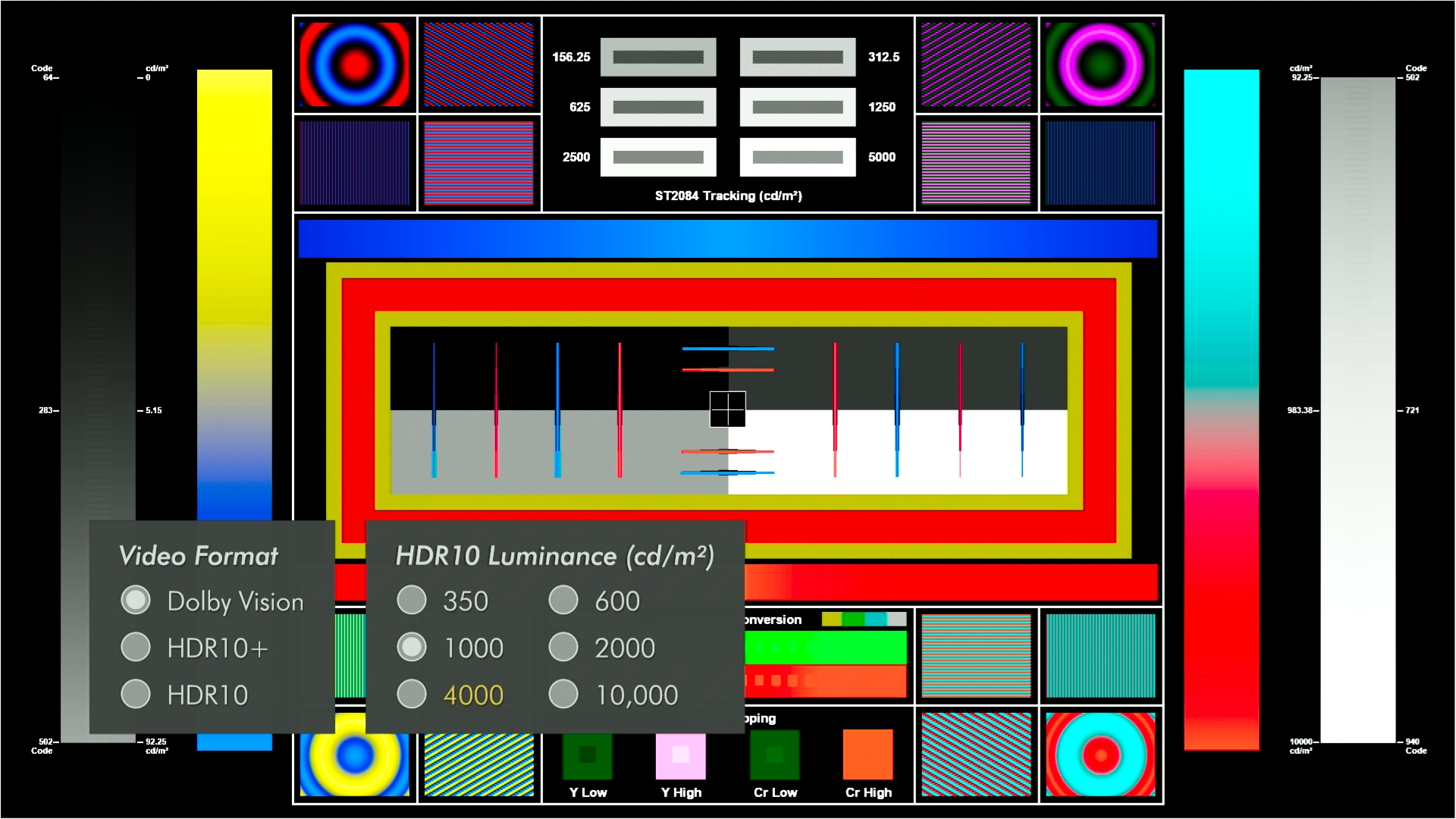 Opinion: HDR can be all over the map, and a test disc can help ensure your TV is handling it properly 
A TV reviewer owning a 4K Blu-ray test disc is understandable, but do you need one? The answer to that question is yes – if you want your TV or projector to display images that come close to what a film's director intended for them to look like when the movie was originally mastered.
Some TVs provide a Filmmaker or Movie mode intended to present an "accurate" picture. But the reality of the situation is that even the most accurate TV preset picture modes can be inaccurate, and in some cases by quite a bit.
The effect of this may be that dark details in pictures get swallowed in the shadows, or that black levels are elevated, causing pictures to have reduced contrast and visual impact. Conversely, highlight detail can be lost due to pictures being overly bright. 
Using a video test disc like the Ultra HD Benchmark is the only way you'll know if your TV or projector's picture settings have been calibrated properly, and that you're objectively seeing it in its best light. Otherwise, you're fumbling in the dark, making tweaks to your TV's settings until its picture looks subjectively good.
Not only does the new Ultra HD Benchmark provide both basic and advanced video test patterns for calibrating your TV's picture settings for viewing regular HD and 4K video with HDR (in Dolby Vision and HDR10+, no less), but it now has audio test tones to set up the best Dolby Atmos soundbars and speaker systems built around the best AV receivers. As interested as I am in the new video test patterns, there so far hasn't been a good Dolby Atmos test disc available, and I'm looking forward to using the Benchmark's audio tones to set up and evaluate soundbar systems and speakers.
The Ultra HD Benchmark is available from MediaLight Bias Lighting and other dealers and is currently priced at $47.95 (around £39 / AU$72).
Source link