Key information
– Debuts on Disney Plus in mid-June
– Plot based on Marvel's Secret Invasion comic series
– First crossover event in MCU history
– Official trailer released in early April
– Samuel L Jackson returns as Nick Fury
– Ben Mendelsohn, Cobie Smulders, Emilia Clarke, Olivia Colman, and Kingsley Ben-Adir among supporting cast
– Inspired by multiple spy/espionage movies
– Story will impact other Phase 5 projects
Who can you trust? In Secret Invasion, nobody by the sounds of it. The first Marvel TV show of the year is going to be a politically charged, spy-based thriller, so we can expect many twists and turns along the way.
Before the Marvel Phase 5 TV series arrives on Disney Plus, what else do we know about the Nick Fury-starring project? A fair bit, actually. Below, we've rounded up everything worth knowing about the Marvel TV show, including its official release date, trailers, plot specifics, cast details, and more. Lies and deceit might be the fulcrum of this MCU series but, a few rumors aside, you'll only find truth in this guide.
Full spoilers follow for multiple MCU productions. Potential spoilers follow for Secret Invasion, too.
Secret Invasion release date
Nick Fury and Talos return in Marvel Studios' #SecretInvasion, streaming June 21 on @DisneyPlus. pic.twitter.com/BLTfIpRiYaMay 21, 2023
See more
Secret Invasion will launch exclusively on Disney Plus on Wednesday, June 21 – Marvel confirming as much in early April. That launch date reveal reveal came four days after Marvel inadvertently leaked the show's release date. The spy thriller show is expected to debut with a one-episode premiere, and it'll run for six weeks if it does.
Like Moon Knight and Werewolf by Night, Secret Invasion carries a 16+ age rating in the UK (that's TV-14 in the US). That means scenes of a violent nature and bad language will be pretty extensive throughout.
Secret Invasion trailer
Secret Invasion's official trailer was released on April 3 – and, in our view, it could be the reassuring win Marvel needs after a troublesome 12-month period for the Disney subsidiary.
Like Captain America: The Winter Soldier, Marvel's first TV show of 2023 will be an espionage thriller, and the footage that makes up the two-minute long teaser showcases why. We see Nick Fury looking extremely concerned at various points, plenty of Skrull on Skrull action, and a twisty-turny plot that'll have Fury and company (and viewers!) questioning everything.
Missed the series' first teaser, which arrived in September 2022? Watch it below:
Finally, a new one-minute trailer – titled 'Fight' – and a behind-the-scenes featurette are also available to watch, providing you're not fussed on learning more about the series ahead of launch.
Secret Invasion cast
Here's Secret Invasion's confirmed cast thus far:
Samuel L. Jackson as Nick Fury
Ben Mendolsohn as Talos
Cobie Smulders as Maria Hill
Martin Freeman as Everett K. Ross
Don Cheadle as James 'Rhodey' Rhodes/War Machine
Olivia Colman as Sonya Falsworth
Kingsley Ben-Adir as Gravik
Emilia Clarke as G'iah
Dermot Mulroney as President Ritson
Killian Scott as TBA
Christopher McDonald as TBA
Carmen Ejogo as TBA
Irina Kara as TBA
Jackson reprises his role as ex-SHIELD director Nick Fury, a character he's played since 2008's Iron Man. His last MCU appearance was in 2019's Spider-Man: Far From Home, where Fury was enjoying a vacation onboard a Skrull spaceship. 
Fury is joined by Ben Mendolsohn's Talos and Cobie Smulders' Maria Hill. Talos was also seen in Far From Home, disguising himself as Fury to help Spider-Man stop Mysterio. Meanwhile, Hill hasn't been seen since Avengers: Endgame. Well, technically she hasn't – Smulders reprised her role in Far From Home, too. But, like Talos who was masquerading as Fury, she was being impersonated by Soren, Talos' wife. 
Don Cheadle and Martin Freeman feature as James 'Rhodey' Rhodes and Everett K. Ross, the pair last seen in The Falcon and the Winter Soldier and Black Panther: Wakanda Forever respectively. Per Entertainment Weekly (EW), Rhodey serves as the right hand to the President at the show's beginning.
Trust no one. pic.twitter.com/o7MNlkf843May 18, 2023
See more
Emilia Clarke (Game of Thrones) has finally been confirmed to be playing G'iah (per Vanity Fair). In the comics, Gi'ah impersonated Pepper Potts for a while. However, her story has been altered for Secret Invasion, with G'iah – who also goes by her human pseudonym Nell – being Talos' daughter, who we saw in 2019's Captain Marvel. G'iah will reportedly start out as an adversary of Fury and company, but eventually joins them to tackle Gravik's Skrulls.
Speaking of Gravik, Kingsley Ben-Adir is portraying the Skrull commander, who is an original character created for the series and is the primary villain. According to MCU leaker The Cosmic Circus, Gravik's rogue sect have set up camp in Russia. He's also a super Skrull, who possess superhuman abilities in the comics. Industry leaker MyTimeToShineHello says some of Gravik's underlings will also have powers.
Award-winning actress Olivia Colman is playing MI6 agent Sonya Falsworth, a secondary antagonist motivated to protect the UK's own interests amid the Skrull invasion. The Falsworth name is one comic fans will immediately recognize, with members of this family taking on the superhero pseudonym Union Jack. It's unclear if Colman's Falsworth will do so here, though.
Possible spoilers follow for the identities of Secret Invasion's other characters.
Dermot Mulroney (Hanna, The Purge) is said to be portraying President Ritson, according to an image snapped by Instagram user the_insta_phils (thanks to ComicBook.com for the catch). The first trailer appears to show Mulroney's Ritson in the convoy that's hit by an explosion. We'd be surprised if he survives that attack, too, with Harrison Ford's Thaddeus 'Thunderbolt' Ross already confirmed to be the next US President in Captain America: New World Order.
Christopher McDonald (Hacks, Happy Gilmore) is apparently playing a Fox News-style anchor in the mould of Tucker Carlson (per Secret Invasion News). Killian Scott (Ripper Street) will reportedly portray a Skrull called Fiz (via The Direct), while Carmen Ejogo (Fantastic Beasts) has been cast in an undisclosed role. 
Elsewhere, Irina Kara (Psycho) was also spotted on set (via Reddit) but nobody knows what her role entails. Lastly, Charlayne Woodward (Unbreakable) will portray Priscilla, who is Fury's wife and a S.W.O.R.D agent, too.
One character who surprisingly might be involved is Daisy Johnson/Quake. She was portrayed by Chloe Bennet in ABC's Agents of SHIELD – a TV series without ties to the MCU. Given Quake's prominent role in the Secret Invasion comic book series, however, some fans have wondered if she'll appear.
Bennet previously denied her involvement on Instagram, but Marvel leakers CineStealth and Tom Smith suggest Bennet will feature. DanielRPK claims she'll get a new origin story, even though Marvel will include parts of her Agents of SHIELD character arc. Another leaker – The Watcher – has suggested Quake's MCU origins will be kept intentionally vague, which gives Marvel some wriggle room about Agents of SHIELD's MCU canonicity, too.
Since those rumors (and denials) were posted online, Bennet appears to have confirmed she's back as Quake. Taking to Instagram in late November, Bennet posed alongside some daisies (*hint hint*), with Marvel fans assuming she'll make her MCU debut very soon. We'll have to wait for the miniseries to be released, though, to know for sure.
Secret Invasion plot
Here's Secret Invasion's brief story synopsis: "Secret Invasion is a newly announced series heading to Disney Plus. The crossover comic event series showcases a faction of shape-shifting Skrulls who have been infiltrating earth for years." 
Perhaps unsurprisingly, the series has espionage DNA running through its veins. John Le Carré novels, TV shows like Homeland, political thrillers including The Bourne Identity, westerns like The Searchers, and film noir flicks such as The Third Man (per Empire magazine), have all been mentioned as huge inspirations. Closer to home, it's also likened to Captain America: The Winter Solider – Marvel's first foray into the political, subterfuge, and surveillance subgenres.
Additionally, Secret Invasion will be the MCU's first crossover event, so it'll likely tie into Marvel Phase 4 and other Phase 5 projects. However, it won't be as narratively expansive as the comics it's based on. In January 2021, Marvel President Kevin Feige told ComicBook.com: "There were more characters in the comic series than there were in Endgame so, no [Secret Invasion won't be bigger in scope]."
Given the series' major players, Secret Invasion is a continuation of the story from Captain Marvel and Spider-Man: Far From Home. These movies involved the Skrulls to varying degrees, so it'll come as no surprise if they act as jumping-off points for the series.
Per Vanity Fair, spymaster Nick Fury will become embroiled in a vast conspiracy that sees double agent-like Skrulls installed in positions of power across the globe. At the end of 1990s-set Captain Marvel, Fury and the titular superhero were tasked with helping Talos' peaceful group of Skrulls find a new planet to call home. As Samuel L Jackson tells Vanity Fair, though "that's not going so well". Clearly, some of those Skrulls have grown tired of waiting and, after being radicalized by breakaway leaders Gravik, start taking matters into their own hands – including invading Earth and masquerading as humans.
Among Gravik's number is G'iah, who's become emotionally hardened and worn out by broken promises from Fury and company. Speaking to Vanity Fair, Clarke said: "These people promised a lot of stuff a long time ago, and not a lot has happened. So understandably, a certain amount of resentment has been built. There's a lot of emotions that live within her, and there's a lot of confrontational aspects to her character that have come from circumstance. You understand why she has the feelings that she does."
Speaking to Collider in 2021, Feige said the series' "political paranoia" was something Marvel had wanted to explore for a long time, adding: "We wanted to do a series because it would allow us to do something different than we've seen before." 
Chatting to Digital Spy, Martin Freeman also teased: "It's pretty dark figuratively and literally. It's a bit murky, quite labyrinthine in terms of storytelling, and the amount of people crossing over with each other". Cobie Smulders also told People magazine that the show is "much more dark in tone", which speaks to its 16-plus age rating.
So, why doesn't Fury just call in a few favors from his superpowered friends, aka the Avengers, to stop Gravik's radicalized sect? As Jackson teases via Vanity Fair: "You'll find that out. There's a very good reason he's holding back." (NB: we think we know why, but you'll have to read our potential spoiler section to find out more).
Potential spoilers follow for Secret Invasion's plot.
One interesting plot point might concern The Blip – i.e. the moment where Thanos snapped half of the universe out of existence in Avengers: Infinity War. CineStealth claims it doesn't take place during this period, but the Skrull invasion apparently occurs in the five years between Infinity War and Endgame. If true, its first episode may cover the Skrull invasion before the show's main narrative begins.
Given the Skrulls' ability to shapeshift, we could see other MCU characters make cameo appearances. The comic series revealed there were Skrulls who had been masquerading as some of Earth's Mightiest Heroes for years. And it sounds like this story thread could be adapted for the show, with MyTimetoShineHello saying there'll be "some superheroes" who turn up in the series. Is this what Jackson is alluding to when he teases why Fury doesn't ask for the Avengers' help? It could well be.
Elsewhere, The Cosmic Circus suggests the Department of Damage Control (DoDC), who showed up in Spider-Man: No Way Home, Ms Marvel, and She-Hulk: Attorney at Law, will figure. Ande'll learn more about Fury's life away from the superhero world, too – Jackson telling EW: "There are things that even I really didn't know about Nick Fury that I just found out. The minds behind what happened during The Blip are fantastic. That's part of what we're uncovering when we do this series now."
Finally, chatting to The Hollywood Reporter, Jackson elaborated on how the series will explore Fury's priorities and world outside of his job. "I can have a whole life as Nick Fury that's not Nick Fury at work," he said. "You know, we get to go home with me and see what happens with me at home or when I'm alone or when I'm not so strong." Expect Charlayne Woodward's Priscilla to feature heavily in these scenes.
Secret Invasion: how will it impact the MCU?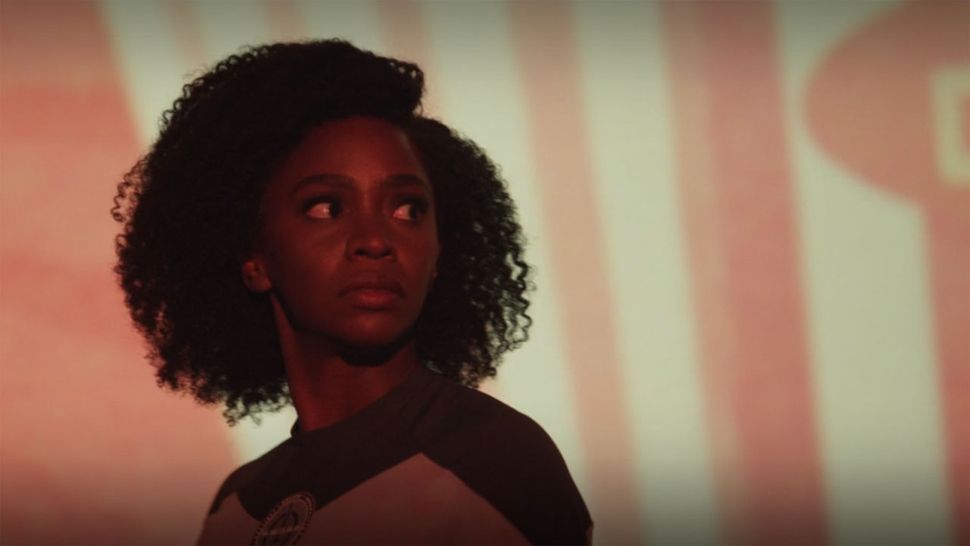 Secret Invasion should follow on from Captain Marvel and Far From Home, and potentially pick up some plot threads from WandaVision, which saw Monica Rambeau/Photon (Teyonah Parris) approached by a Skrull in the series finale. The unnamed Skrull told Rambeau that a friend of her mother wanted to meet Monica, and many fans have predicted this "friend" is Nick Fury.
This plot point wasn't resolved before WandaVision ended, so it's possible that Rambeau could cameo in Secret Invasion. It's that, or this will be explored in The Marvels, which Rambeau will have a major role in alongside Captain Marvel and Ms. Marvel.
Meanwhile, during Marvel's presentation at Disney's 2020 Investor Day (via Mashable), Feige revealed Secret Invasion would tie directly into upcoming MCU movies. The Marvels will be one – Jackson has since confirmed Secret Invasion "has to happen" to allow that movie to, well, fly high (via Empire magazine) – and, as mentioned in our cast section, Captain America 4 should be another. 
Lastly, Don Cheadle confirmed to Total Film magazine (via SlashFilm) that Secret Invasion "kicks off what happens" in Armor Wars, Rhodey's first solo MCU adventure. So that's three forthcoming films that'll be directly set up by what happens here.
For more MCU content, read up on how to watch the Marvel movies in order, check out our Best Marvel movies ranked guide, or read up on what you need to know about Loki season 2.