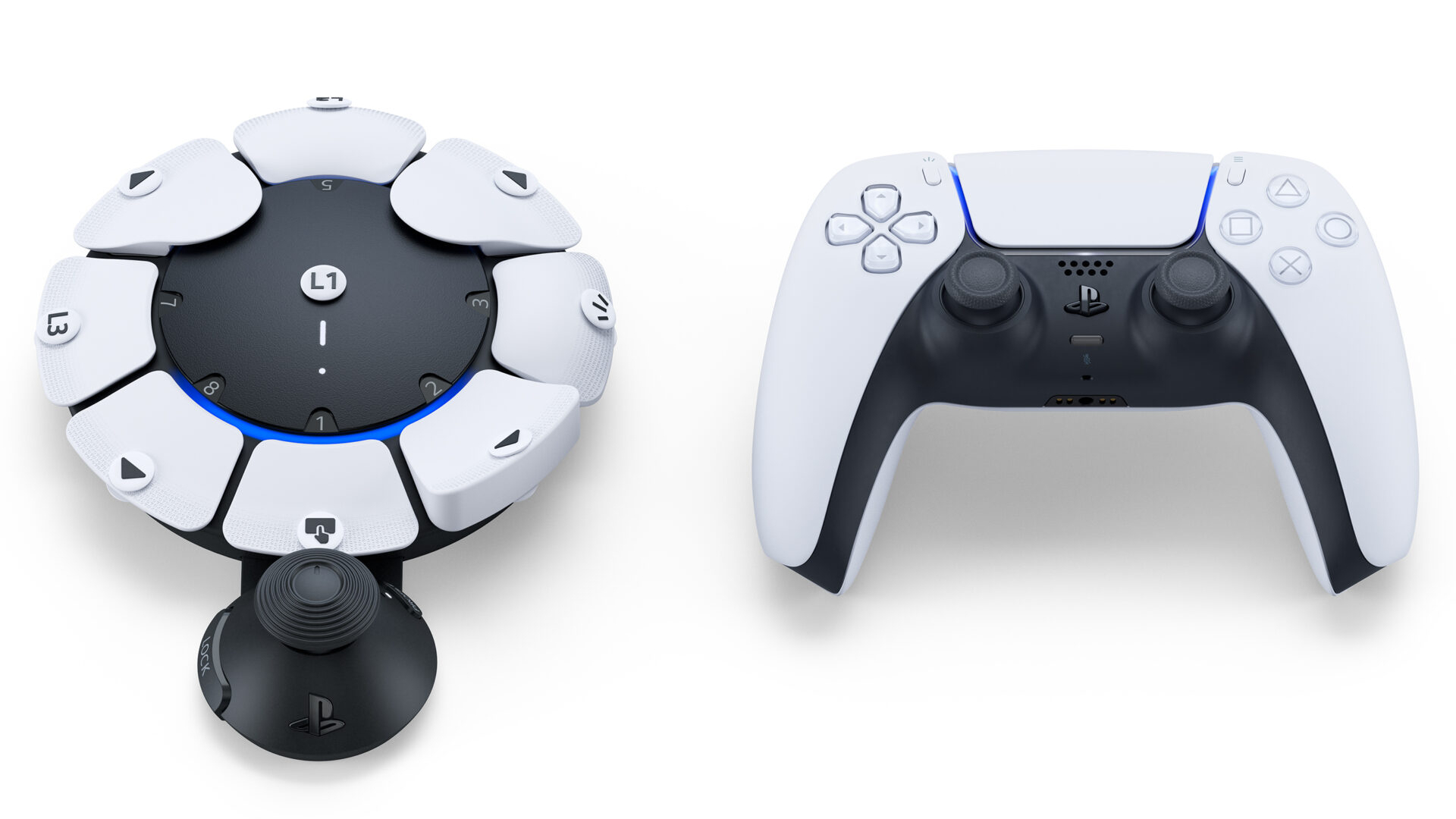 Sony has officially revealed that Project Leonardo for PS5, first announced in January, is now the Access controller. 
The Access controller for PS5 is to be built with flexibility in mind as each kit includes different analog stick caps, button caps in different shapes and sizes (such as curved, flat, overhanging, and wide) as well as swappable button cap tags to fully tailor to user experience. 
As well as being secured to an AMPS mount or a tripod, the Access controller can be used on flat surfaces, too. It works with a 360-degree range of motion operated by a joystick to easily select which corresponding button which would appear on a standard DualSense Wireless Controller. 
Also detailed in the full reveal on the PlayStation Blog is how the Access controller hardware will integrate with the PS5's software – where things are equally robust. You'll be able to set controller orientations, meaning you can choose exactly how it's set up physically and adapt the software accordingly. Different profiles can be created to suit varying game genres, which can save everything from button assignment mapping, stick sensitivity, and dead zones to fit user needs. The Access controller also includes toggle options that can be applied to adjust the behavior of any button on board, while also acting as a way to switch between profiles with a single button press.
Additionally, both the standard DualSense and the DualSense Edge can be used alongside the Access controller together or as one complete controller. For example, the Access controller could be used for movement, and a DualSense could be used for action buttons.
Gaming for all abilities 
Sony has been committed to making the PS5 as accessible as possible since the console launched back in November 2020. Not only do many of the best PS5 games feature extensive accessibility options in software, but now the Access controller is taking further steps to allow people who would struggle with the standard DualSense to enjoy its titles, too. 
No price or release date has been revealed as of yet, but we should see these details emerge in the not-too-distant future. It's been a long time coming for the platform but it's better late than never. On the Xbox Series X, the Xbox Adaptive Controller has been available since 2018 and gives people a similar range of extra motion. It's good to see that Sony has caught up with its more high-tech solution to a problem because more people gaming is always a good thing. 
Source link