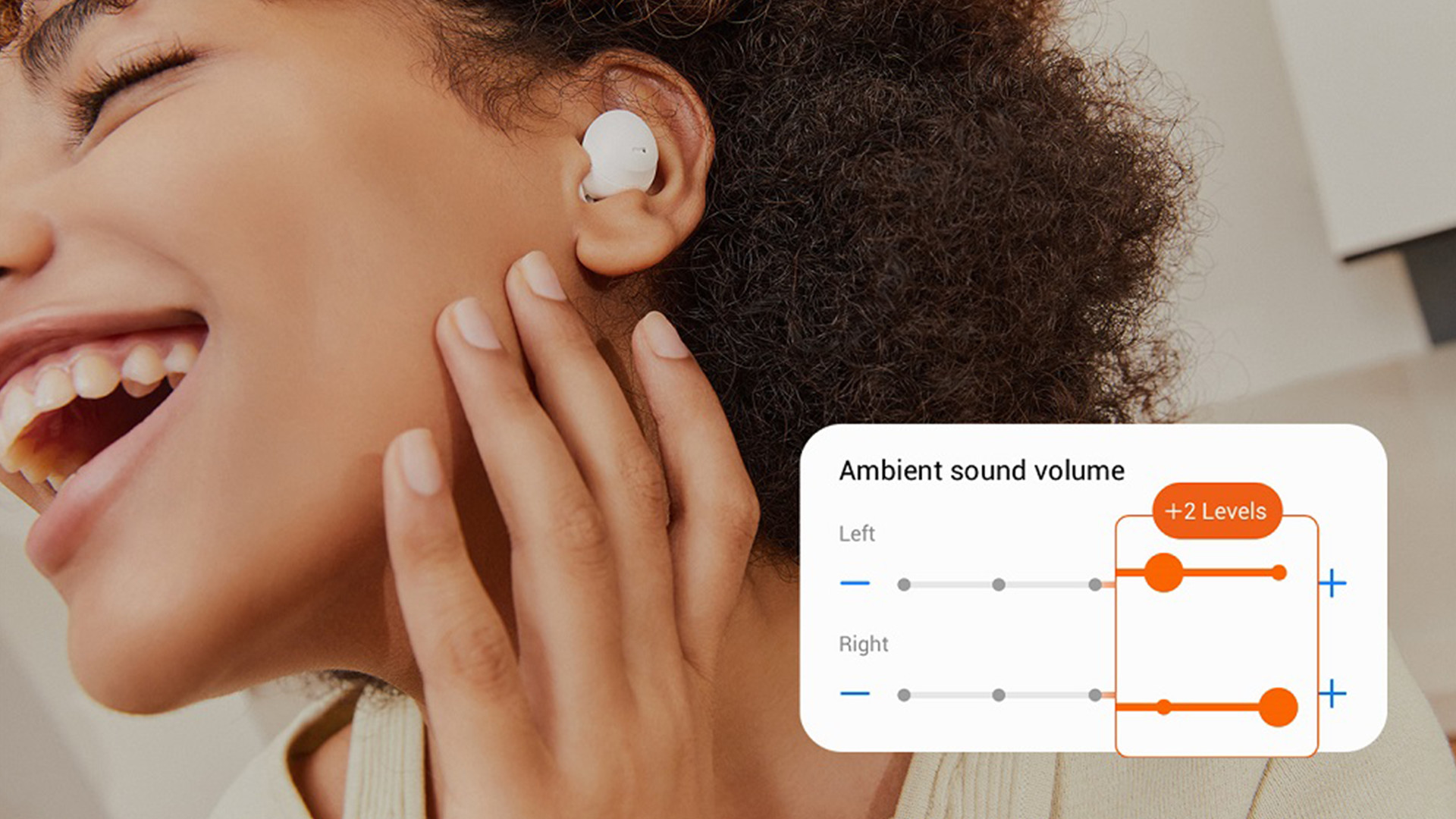 Ahead of Global Accessibility Awareness Day, Samsung revealed it will be improving how ambient sound works on the Galaxy Buds2 Pro.
The feature will now have two extra levels of audio amplification (opens in new tab) in the Galaxy Wearable app, bringing the grand total to five. Additionally, users will be able to independently "adjust the volume on the left and right [earbuds]". Altogether, that'll give Galaxy Buds2 Pro owners a greater ability to fine-tune their listening experience so it best suits their needs. For example, one earbud can output loud, clear audio, while on the other, the sound is softer and quieter. 
The company is also introducing a new tool in Galaxy Wearable (opens in new tab) called Adapt Ambient Sound, which is said to allow "even more clarity in helping users hear the world around them better." That explanation is pretty vague, but it does remind us of Adaptive Transparency on the AirPods Pro 2. And if it's anything like Apple's feature, Adapt Ambient Sound should allow external sound to automatically seep through the Galaxy Buds2 Pro at key moments. This can be pretty useful in scenarios like when you have your earbuds while waiting in the airport but don't want to miss when you're boarding time is announced.
Samsung states the update will release in the coming weeks. However, "availability may vary by market, carrier, and [smartphone] model". It's unknown if this will be a global launch. We did ask the tech giant for clarification on the roll out and for more information on the Adapt Ambient Sound. This story will be updated at a later time.
Greater accessibility
The company claims that part of the goal of enhanced ambient sound is to help the "hard of hearing better enjoy the sounds of the world." Apparently, a recent trial (opens in new tab) conducted by [the] Samsung Medical Center found the Galaxy Buds2 Pro "show promise as a hearing enhancement device" although the earbuds are no substitute for an actual hearing aid. At the very least, the update aims to help those who may have some hearing impairment and that would benefit from customizable sound amplification.
It's worth pointing out Samsung isn't the only company participating in Global Accessibility Awareness Day (May 18, 2023) as Apple recently announced its fair share of accessibility features for its various devices. Chief among them is Personal Voice, "developed in cooperation with Team Gleason, a US-based non-profit ALS awareness foundation". Basically, the tool can create "a synthesized version of your own voice" to say whatever you want without having to rely on a robotic Siri voice.
Making technology more accessible doesn't have to be something only corporations do. If you own a website, you can help out by making sure your page is accessible to all. To learn how to do this, check out TechRadar's list of the best web accessibility services of 2023.
Source link