Growing a business is never easy, and with a host of challenges facing companies of all sizes across multiple industries, you need to look at ways to help your business stand out from the crowd.
For starters, staying flexible is a great idea in business, whether that's in your working habits, or even with office locations in this new age of remote working. But as budgets are being tightened across the world, having the most effective IT to do your job at the right time is always a challenge. But what if there was another way?
A solution like Devices for Teams by HardSoft (opens in new tab) can provide a number of DaaS-related advantages, including:
1. Be as flexible as you need to be
Having the best tech in your business is one thing, but having the devices you need at the right time while being able to switch without penalty, will change your business forever.
2. Spend your capital where it matters most
Devices for Teams is OpEx-friendly so you can spend your cash on growing your business instead of letting it get eaten up by expensive, high-end devices which will be obsolete in just a few years.
3. Have an experienced and trusted IT partner by your side
Instead of relying on five or six third parties for your IT hardware, logistics, support, financing, protection cover, disposal, and reprovisioning, you can bring everything under one roof and only pay a single, monthly fee.
4. Support your workforce without stretching resources
The rippling aftermath of the pandemic has forced hybrid working into many companies, presenting a major challenge to support their scattered workforce. But a business can offload support to a trusted third-party allowing for a greater focus on growth.
5. Stay in control and super secure
All businesses need to take information and hardware security seriously, so it's beneficial to manage your IT estate with a Mobile Device Management (MDM) solution which gives you total control over every device.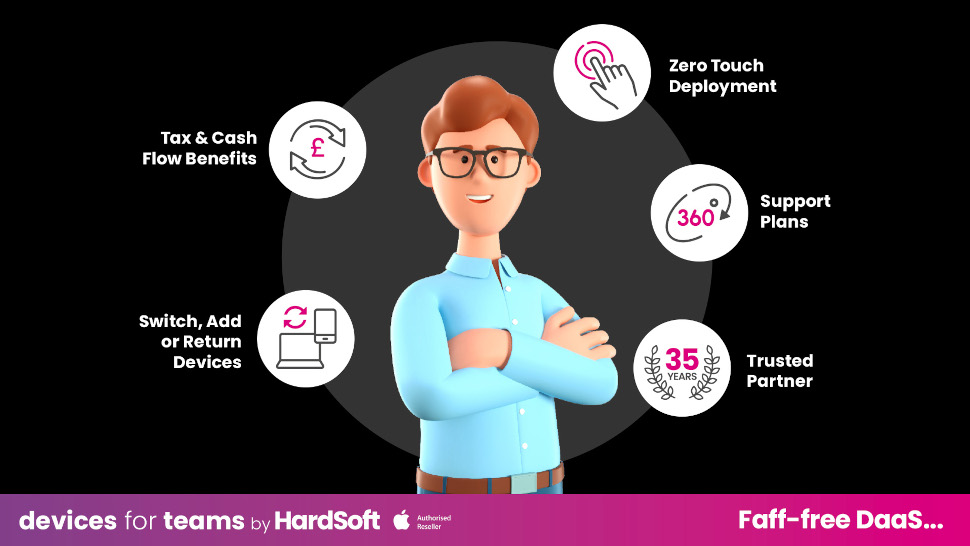 Devices for Teams offers your choice of Windows or Apple laptops, smartphones, tablets, desktops with the ability to Add, Switch and Return devices as you need, so you pay just for what you use – without penalty.
The flexibility of DaaS offerings can be a major advantage for companies with one eye on their finances. Why commit to a big hardware expenditure for devices that may break down or be obsolete within months, leaving you stuck with a hefty repair or upgrade bill? Devices for Teams offers a flexible, manageable and tax-efficient solution that you can tailor depending on your business' exact needs.
A solution like Devices for Teams also gives your business the agility to respond to changing conditions or workloads, fast. If you need to quickly upgrade your devices to give key workers some extra power and boost efficiency, business IT solutions lets you get your hands on the devices you want, with the peace of mind that they'll be secure and reliable, and you can return any items you don't end up needing without any hassle.
And if you're growing and hiring new workers, there's no need to go through lengthy procurement or research processes to find new hardware – devices can quickly be supplied      without complications, making sure you're up and running straight away.
With Devices for Teams, you won't need to worry about handling the pre-deployment, configuration and setup of your new devices with all the apps and software you might need, meaning they'll be ready to go from day one of delivery. 
The company can even help set up a Mobile Device Management (MDM) solution before deployment to make sure you keep track of what every device is up to, keeping your business and its employees and data safe and secure from security threats or network outages.
So, if your business is in need of a hardware boost that doesn't break the bank, and can grow and scale as you do, then DaaS solutions like Devices for Teams could be ideal for you. 
For more information, visit the Devices for Teams website (opens in new tab) to learn more     
Source link