Shadow and Bone season 2: key info
– No official release date yet
– Second season coming in 2023
– First teaser full of fantasy-based action and drama
– Key characters returning from first season
– Fan favorite characters set to be introduced
– May be based on three books in the fantasy series
– Unclear if a third season will be greenlit
Shadow and Bone season 2 won't be lurking in the, well, shadows for much longer. The next entry in the fantasy Netflix series will be with us in 2023 and, given that production wrapped in June and its first teaser arrived in September, we're confident it'll be released early next year.
For now, there's lots of news for you to catch up on concerning one of the best Netflix shows of recent times. Below, you'll find a ton of information about Shadow and Bone's second season on Netflix, including its potential launch date, new and returning cast members, the aforementioned teaser trailer, plot details, and what the future holds for the TV adaptation of Leigh Bardugo's book series.
Full spoilers follow for Shadow and Bone season 1. Potential spoilers for season 2 and Bardugo's literary works are also discussed in our cast and plot sections. Use the navigation bar to your left to skip those if you're avoiding spoilers pre-release.
Shadow and Bone season 2 release date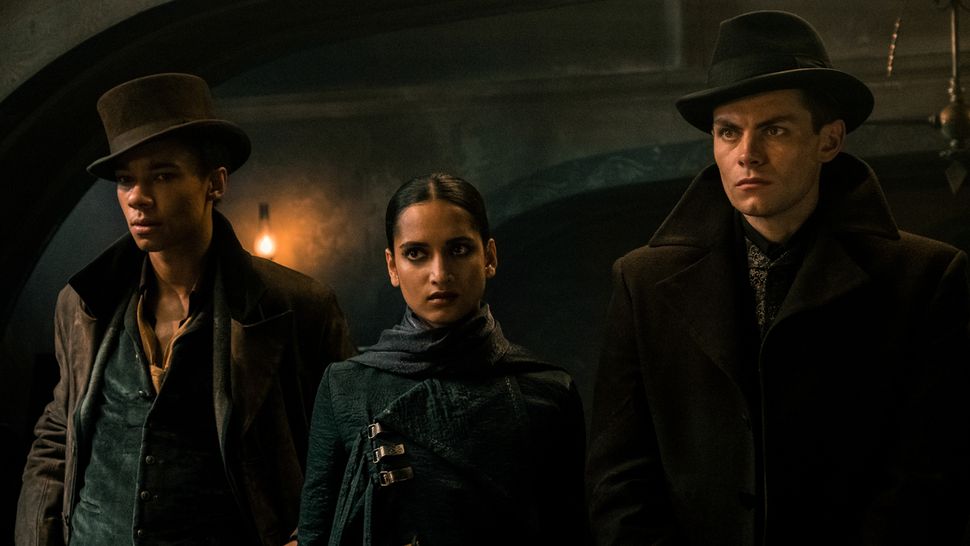 Shadow and Bone season 2 doesn't have a release date, but Netflix says it's coming in 2023. So, when will that be? The show's next entry is likely in the final stages of post-production, so we're hoping it'll be completed by the end of 2022.
Our guess? A release date announcement and official trailer will drop in early 2023. If we're correct – Netflix usually releases full trailers for its original content around a month before they launch – we may see Shadow and Bone season 2 around March 2023.
Shadow and Bone season 2 trailer
Netflix debuted the first teaser for Shadow and Bone season 2 in September at Tudum 2022.
The 40-second trailer doesn't reveal too much, but it hints at how the second season will build on the fantasy-based action and drama from its predecessor. We see the Crows joining forces with Jack Wolfe's Wylan Hendriks, Jessie Mei Li's Alina Starkov meeting and talking with Patrick Gibson's Nikolai Lantsov, multiple explosions, chase sequences, and Ben Barnes' General Kirigan asking someone what they'll give up to pursue their wildest ambitions. Sounds and looks ominous.
To drum up further excitement, Netflix also released a 25-second video of Gibson's Nikolai, Wolfe's Qylan, Lewis Tan's Tolya Yul-Battar, and Anna Leong Brophy's Tamar Kir-Battar in their official costumes:
Shadow and Bone season 2 cast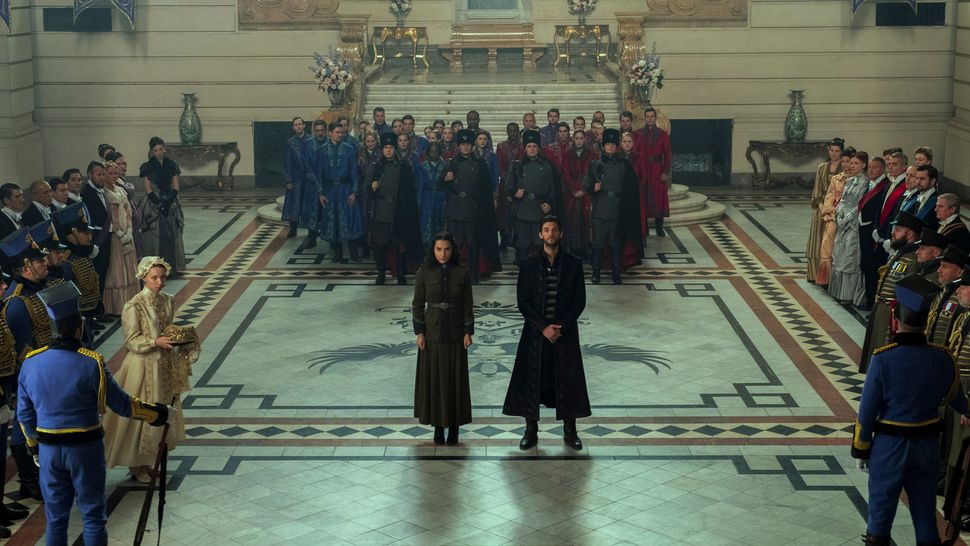 Here's Shadow and Bone season 2's confirmed character list so far:
Jessie Mei Li as Alina Starkov 
Ben Barnes as General Kirigan/the Darkling 
Archie Renaux as Malyen "Mal" Oretsov 
Freddy Carter as Kaz Brekker 
Amita Suman as Inej Ghafa 
Kit Young as Jesper Fahey 
Danielle Gilligan as Nina Zenik 
Calahan Skogman as Matthias Helvar 
Sujaya Dasgupta as Zoya Nazyalensky 
Julian Kostov as Fedyor
Patrick Gibson as Nikolai Lantsov
Jack Wolfe as Wylan Hendriks
Lewis Tan as Tolya Yul-Battar
Anna Leong Brophy as Tamar Kir-Battar
Daisy Head as Genya Safin
Zoe Wanamaker as Baghra
Shadow and Bone's protagonists Alina Starkov and Mal Oretsov will return, while the antagonistic General Kirigan – who survived the attack in the Shadow Fold in the season 1 finale – is also back.
Kaz Brekker, Jesper Fahey, and Inej Ghafa are part of the line-up, too. As in the Six of Crows duology, the Dregs' story (more on this below) will line up with Nina Zenik and Matthias Helvar, so we should see that trio link up with the latter duo. This was hinted at in season 1's final episode, so expect them to join forces like they do in the novels. Danielle Gilligan and Calahan Skogman have been bumped up to series regulars (per TVLine (opens in new tab)), so this storyline seems like a given at this point.
Spoilers follow for Shadow and Bone's novel series and potential season 2 plot details.
As for characters who have also made the leap from Bardugo's book series to the screen adaptation, Wylan Hendriks (whose surname has been changed from 'Van Eck' for the TV show) is one of four new confirmed cast members.
In the novels, Wylan Van Eck joins the Crows as their demolitions expert for a job inside Fjerdan's military stronghold known as the Ice Court. Jack Wolfe (Inside No. 9, The Witcher) will portray Wylan in Shadow and Bone season 2.
Another fan favorite character set to appear in season 2 is Nikolai Lantsov, who'll be portrayed by Patrick Gibson (Tolkien, The Darkest Minds). In the books, Nikolai adopts the pseudonym Sturmhond and leads a pirate armada that aids the war effort for the kingdom of Ravka. Nikolai becomes a key ally of Alina and Mal's, so his arrival in Netflix's adaptation will be vital if the show's next entry follows Siege and Storm's storyline.
✨ Let's give a warm Grishaverse welcome to your new cast members ✨@TheLewisTan will play Tolya [email protected] will play Tamar [email protected] will play Nikolai Lantsov.@JackTWolfe will play Wylan Hendriks. pic.twitter.com/XaAEg2GgkRJanuary 13, 2022
See more
The final two newcomers – for now, at least – are twin siblings Tolya Yul-Battar and Tamar Kir-Battar, who'll be played by Lewis Tan (Mortal Kombat) and Anna Leong Brophy (Traces) respectively.
In the source material, Tolya is a Grisha Heartrender and a member of Sturmhond's pirate crew. Meanwhile, Tamar is also a Heartrender, but an ex-member of Sturmhond's team. The pair also meet up with Zoya in one of Shadow and Bone's spin-off novels, so expect elements of this book's story to be incorporated into this season's plot.
There had been no word on whether Zoe Wanamaker's Baghra would return. However, an Instagram post from lead actress Jessie Mei Li (opens in new tab), which contains an image of Wanamaker, all but confirms her return. Daisy Head, who played the Queen's tailor in season 1, has also been upgraded to a series regular for the show's second installment (per TVLine (opens in new tab)).
Lastly, a Witcher fansite called Redanian Intelligence (opens in new tab) claims five other actors have been added to the season 2 cast:
Tommy Rodger (Goodbye Christopher Robin) as Jordie Rietveld, Kaz's older brother
Rhoda Ofori-Attah (Sex Education, Top Boy) as Aditi Hilli, Jesper's mom
Newcomer Alistair Nwachukwu as Adrik Zhaban, Nadia's brother
Newcomer Tumi Fani-Kayode as Miradi, an original character
Seamus O'Hara (The Northman) as Halsov, an original character
Shadow and Bone season 2 story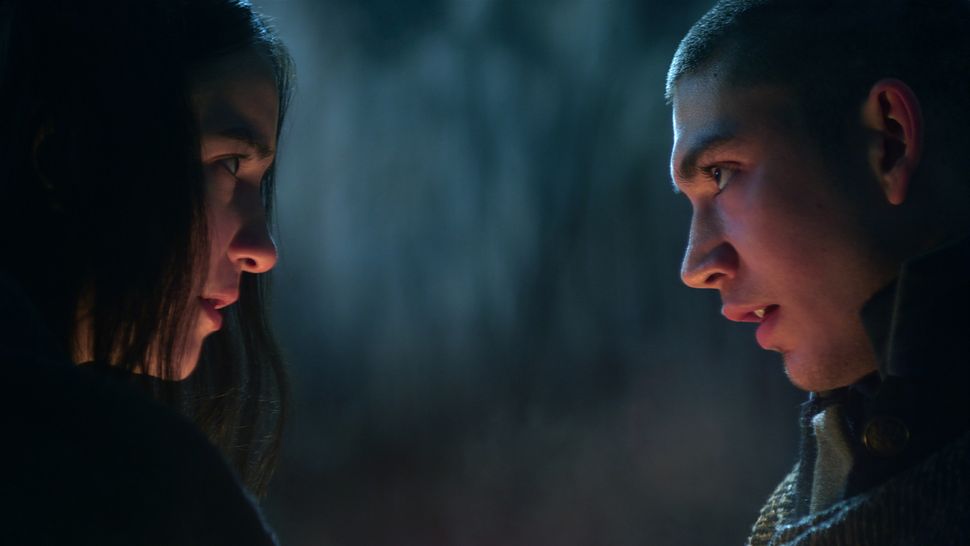 Spoilers follow for Shadow and Bone season 1 and the book series.
Shadow and Bone season 2 should follow stories from three novels – Siege and Storm, Six of Crows, and King of Scars. That's based on those returning cast members, new additions to the show's line-up, and what the season 1 finale set up.
With Alina and Mal going their separate ways to the Dregs following season 1's finale, the second season will continue their journey to new lands to keep Alina out of Kirigan's reach. That means they're sure to bump into Nikolai at some point, but we'll discuss him in a bit.
As season 1's final entry revealed, Kirigan has tapped further into his Darkling powers and created new Fold creatures known as Nichevo'ya. Unlike the Volcra that inhabit the Fold, these monsters can move in broad daylight. Expect them to be difficult adversaries for Alina and Mal to overcome.
Ben Barnes, who portrays Kirigan/the Darkling in Netflix's TV show, has expressed interest in seeing season 2 "steer off" from the story in the books (per Collider (opens in new tab)) in a similar vein to how season 1 incorporated the Dregs into Alina's arc. It's unclear if Shadow and Bone season 2 will do so, but it would be an intriguing twist on the source material if it did. It would give established fans some new content to enjoy, although some may not agree with the show's potential divergence from the novels if it does.
In another Collider (opens in new tab) interview, Barnes elaborated on what we'll see from General Kirigan's season 2 character arc, saying: "What I was championing was finding the humanity. He's quite emblematic of something dark and evil in the books, after the first one, so my mission was to make sure that he's a real person, suffering the things he's suffering and committing the sins that he's committing.
"There are the real world ramifications of those things, and the relationships, how they're made and how they're broken, whether they can be salvaged, what new connections he can forge to help him along his journey, whilst also representing and not shying away from the fact that this is the villain. Which parts of what he does are comprehensible? Which parts can you not condone?"
Meanwhile, The Dregs could team up with Nina in a bid to free Matthias, before the quintet and Wylan join forces to rescue someone known as Bo Yul-Bayur. The Shu chemist and Fabrikator is the inventor of a drug that Grisha find addictive but, in Siege and Storm, he's being held captive at Fjerda's Ice Court. Shadow and Bone season 1 has already utilized the Ice Court's 'impossible heist' angle for the Dregs' initial mission to try and capture Alina, though, so it's possible that Bo's rescue may be altered for the TV series.
Based on season 2's rumored supporting characters, we might see flashbacks to Kaz's and Jesper's childhoods. It's that or we'll get a glimpse into their familial lifestyle with the arrival of Jordie and Aditi.
Another adapted story from a Grishaverse novel – King of Scars – could follow Zoya. A supporting character in the Grisha trilogy, Zoya's character is given a more prominent role in Bardugo's second duology, so elements from these books may be incorporated into the TV show, which Bardugo previously teased to Entertainment Weekly (opens in new tab).
In the season 1 finale, Zoya was seen heading to Novokribrisk – the city that Kirigan destroys with the Fold – to search for her family. Should she find that they've perished, Zoya could team up with the Dregs again, as she does in the Six of Crows' Crooked Kingdom novel. Alternatively, given that Tamar and Tolya cross paths with Zoya in King of Scars, and their inclusion in Shadow and Bone season 2, we may see a team up between this trio.
The addition of Nikolai Lantsov will see his arc from Siege and Storm form a key component of season 2. In the novels, Lantsov – the former king of Ravka, who masquerades as a pirate leader known as Sturmhond – is hired by the Darkling to transport him through the True Sea in order to track down a mythical dragon known as the Rusalye. Lantsov, though, eventually teams up with Alina and Mal, and fights alongside the duo to stop the Darkling from exacting his master plan. Expect Lantsov's origin story and some of his Siege and Storm character arc to be used in the TV show.
Additionally, we'll be visiting a new, fan favorite location in Shadow and Bone season 2: Hellgate, a Kerch prison located on the small island of Terrenjel outside of Ketterdam. Fans should be able to put two and two together to work out why it will be. But, to help you figure it out, actors Danielle Gilligan and Calahan Skogman have described Hellgate as a place where you "can't unsee" things. Make of that what you will.
Finally, we know how many episodes there'll be. Per The Hollywood Reporter (opens in new tab), Shadow and Bone will return with another eight-episode run – good news for those of us who enjoyed what was on offer last time around.
Will Shadow and Bone get more seasons?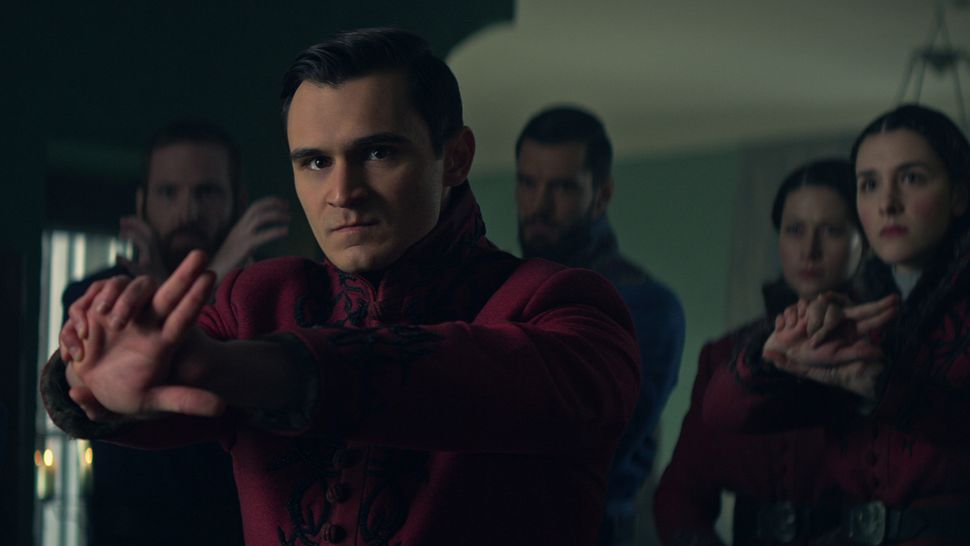 That'll depend on whether fans tune into Shadow and Bone season 2. While it doesn't have a following as big as other major fantasy franchises, the Grishaverse still has a sizable and passionate audience. Its fanbase is likely to have grown, too, with Netflix's adaptation introduces the series to new audiences.
There are numerous directions that Netflix's adaptation of the Grishaverse can go in as well. Like the streamer's growing Witcher-Verse, Shadow and Bone could potentially lead to spin-offs that delve into the wider universe and be based on Bardugo's sizable source material. Whether it's expanding on a pre-existing short story or creating entirely new content, Netflix can go in all manner of directions in and around Shadow and Bone season 2. 
If it continues to be a success, future seasons and spin-offs may be put into production by Netflix, too. The streaming giant has shown it'll put faith in projects that deliver huge viewing figures, so Shadow and Bone's future may be bright if its second season draws in a large audience again.
For more Shadow and Bone-based content, check out these five epic fantasy shows before the series' second season is with us. Alternatively, read up on everything about The Witcher season 3.